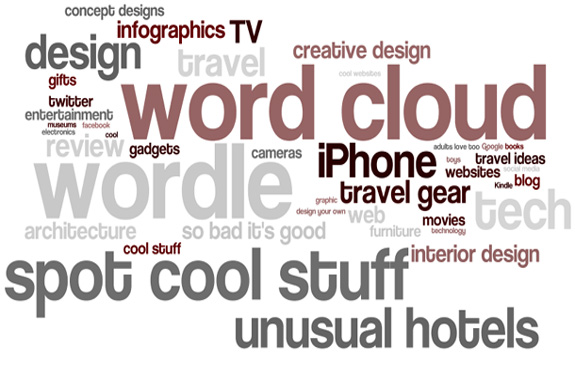 A decade from now word clouds may longer be popular. As we write, they are all the vogue.
Word clouds (also sometimes called tag clouds or weighted clouds) are visual representations text data that display frequently used words or phrases. The larger the word or phrase in a word cloud that word appears in the source.
Some websites use world clouds as a means to show what content they have. Some news outlets use world clouds to analyze a speech or political debate. And now you can make your own word cloud using this cool website: Wordle.
There are three ways to create Wordle word clouds.
The first is to type (or cut & paste) the text you want word clouded (if that's the verb) into a field on the website. For instance, here's a word cloud of the most common answers found in New York Times crossword puzzles:




Second, you can word cloud the text on an existing web page. Turn an RSS feed into a word cloud, too. Here's what the site came up when we submitted the feed from our technology review blog: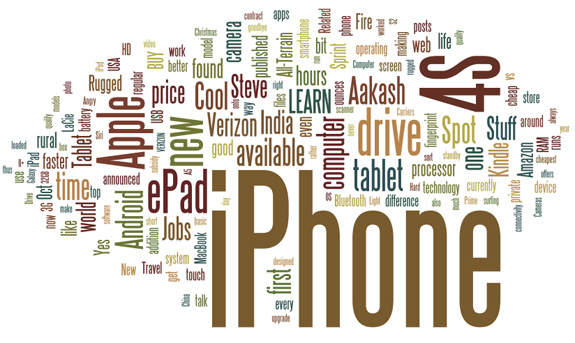 (Immediately it is clear that we've been writing about the recently released iPhone).
Third (and somewhat randomly) you can enter a del.icio.us user name to see their tags word clouded. (We would have liked to see the option of word clouding some one's tweets instead.)
Once you create a word cloud with Wordle, you'll have several options for altering the fonts and colors. You can also have Wordle automatically remove common words and orientate the text horizontally, vertically, both or "any which way." One thing you can't do is select where a word appears within the cloud—we wish there were a way to drag words to a particular location.
Wordle is great fun to play around with. And the price for using the site is right: free.
published: 18 Oct 2010

GO TO THE SITE | JOIN US ON TWITTER / FACEBOOK
Related posts:
8 Unusual Online Dictionaries
Design Inspiration from Colour Lovers
The Cool Kindle Fire and Kindle Touch