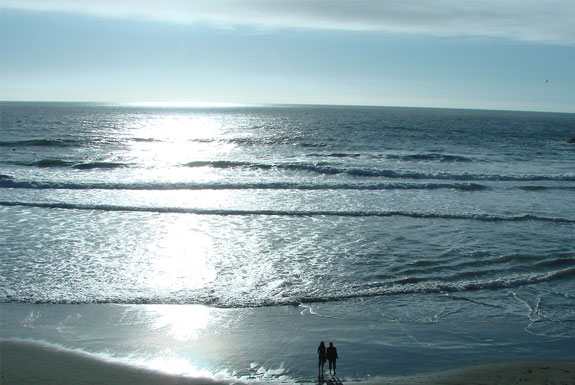 If you are reading this post, we presume you are single and likely nervous about entering the world of online dating. To you we say: Go for it!
Think of it this way: If you were looking for a job, you'd conduct at least part of your search online, no? When shopping for a creative gift, checking out tomorrow's weather forecast or looking for a used car you'd search online. So why not when looking for a boyfriend or girlfriend?
Meeting mates online is not going mainstream. It is mainstream. Of all the people who got married in the United States in 2012, 1 out of every 5 met online. (It's probably more than that in 2013). More than twice as many marriages occurred between people who met on an online dating site than between those who met in bars, clubs and social events combined! And such online dating success spans across demographic groups—targeted niche sites like eHarmony senior online dating have hugely helped singles get back into the dating game later in life.
So, go for it! And start by choosing the online dating site that will work best for you.
There are literally thousands of dating websites to choose from. They break down into roughly two groups: general dating websites, those joined by a relatively large and diverse cross section of people, and niche dating websites, geared towards a specific audience.
You can see our picks for the best niche dating websites clicking to this review. In this post we'll look at the general websites. Spot Cool Stuff has tried out dozens of them. Below is our description of the ones we like best. Check out the full reviews or, if you are the impatient sort, skip ahead to our conclusions:






How it works
Life on Match.com centers around people's one-page profile. The two most important parts of each profile: the photos and the free form About me and whom I am looking for section. We suggest spending a little extra time on each of those.
After your profile is up you can either wait to be found by potential suitors or, better, be proactive and start browsing for that special someone yourself. Match lets you search by all the obvious criteria (ie. age and location) and some unexpected ones too. Looking for a tall, Dutch-speaking, Catholic? A vegetarian executive who has horses, likes body piercings and holds liberal politics leanings? Match.com can set you up.
Once you find a good prospect, you can write that person through Match.com's email system. It's all anonymous—your email will look like it came from YOURMATCHNAME@MATCHTALK.COM. Some Match.com users will make contact through the site in the morning and meet for a date that same evening. Others choose to go through a days-, weeks- or months-long progression of exchanging emails through Match, then progress to writing through their "normal" email addresses and then start talking on the phone before getting to an in-person meeting. There's no "right" or "wrong" method. Match.com accommodates whatever speed you feel most comfortable with.
Who uses it
Match is — easily — the largest and most popular online dating service with more than 20 million users worldwide. You'll find all sorts here: gay and straight, old and young, those looking for serious commitment and those looking for a fling. As a vague generality, the site is most popular with people seeking to exclusively date but not necessarily to get married. That said, more people have gotten married through Match.com than through any other website.
Why we like the website
The unmatched (pun!) size of Match.com's user base is the site's huge advantage — the more singles to choose from the more likely you'll find ones of interest to you. Not only is Match the dominant website in North America but also in the UK and much of western Europe.
Not only that, Match has a near 50/50 split between men and women users. Most dating websites skew heavily female.
Finally, we think Match is the most user-friendly among all the dating website.
Price
US$35 per month (or the rough equivalent in your local currency) if you sign up for their month-by-month plan. However, we strongly suggest signing up for their six month plan for $17/month. You'll probably want more than a month's worth of time on Match and the six month plan comes with a guarantee: if you haven't found some one by the end of that time you'll get another six months for free.
Not incidentally, Spot Cool Stuff has arranged for our North American users to get a 20% discount.
If You Go Onto Match.com . . .
Instead of writing an email through Match, users have the option of expressing their interest in someone through a wink. Winking at a profile results in Match sending that person an email saying that they've been winked at. And it almost never results in an in-person connection. If you find a potential match, forget winking and express your interest in a personalized message.

Match.com lets you save a search and then get a daily (or weekly, your choice) email of the new profiles that match your criteria. Take advantage of this feature—new people are constantly joining Match. We suggest saving two searches—a specific one with your dream person and a broader one with only your must-have criteria.

Be sure to fill out as much of your profile as you feel comfortable doing. The more you fill out the more likely others will find you.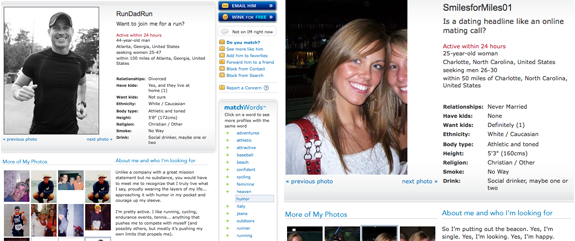 How it works
People new to online dating and who have heard of Match.com and eHarmony assume those two sites are pretty much the same. They are not.
Match.com is very open ended — you decide what you write about in your profile, you decide what singles on the site to contact and what you'll discuss when you do.
eHarmony employs a much more guided (or regimented, depending on your point of view) system. It starts with you filling out a very lengthy questionnaire about yourself and the traits you value in a partner. How quickly do you catch onto new things on a scale of 1 to 7? Plan on dedicating at least 45 minutes and two aspirin to this questionnaire. After you finish you'll be rewarded with a list of potential partners based on your questionnaire results.
We were, initially, extremely skeptical of this eHarmony matching system. No longer. From our own experience, and from talking with many other eHarmony users, there's clearly something to eHarmony's personality profile matching. It really does work. And it is the biggest advantage eHarmony has over Match.com.
Online daters on Match.com tend to seek out the same sorts of people there that they do in in-person social situations. But what if you are single because you are naturally attracted to people incompatible with you? The eHarmony system is excellent at presenting you with singles who maybe aren't the sort you'd normally interact with, but who there's reason to believe, could be the perfect partner for you. How cool is that?!
Once you've found a potential partner on eHarmony you'd like to contact, the site leads you through a "guided communication" process. This process involves you and your potential match sending each other your answers to eHarmony's pre-written questions, "revealing" to each other your lists of Must Haves and Can't Stands and getting advice from eHarmony's founder, Dr. Neil Clark Warren, based on your personality profiles. Every step along the way is totally voluntary; you can drop out of it and pursue communication with another potential match at any time.
Here's an example of how the eHarmony guided communication process looks: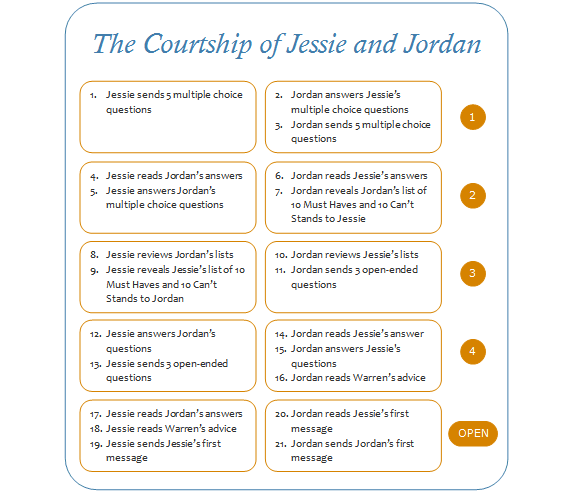 Some people really like this "guided communication" process. They feel it breaks the ice and quickly reveals potential compatibility — or incompatibility — without having to dive right into that messy in-person dating thing. Once people go through the eHarmony system and then meet in person they already have a sort of foundation of understanding.
Others (Spot Cool Stuff among them) find value in that messy in-person dating thing and feel that eHarmony's structured communication process is downright unromantic. If you feel this way don't be put off from joining. eHarmony offers matches the option of "fast tracking" their potential relationship and skipping all those steps Jessie and Jordan go through in our above example.
Who Uses It
Compared to Match.com, users of eHarmony tend to be a bit older and significantly more inclined towards marriage and long-term relationships. eHarmony operates in the U.S.A, Canada, the United Kingdom and Australia.
Currently eHarmony is only for heterosexuals. The founder of eHarmony launched a separate same-sex dating website called Compatible Partners, but it as popular as eHarmony and lacks some of eHarmony's functionality. For gay and lesbian singles interested in a personality matching dating website we'd suggest Chemistry.com.
Why we like the website
As mentioned above, a personality-matching website tends to steer you towards people who might click with but who you, for whatever reason, wouldn't choose to contact on your own. Easily, the two largest and best personality-matching dating websites are eHarmony and Chemistry. Spot Cool Stuff debated which those two to feature in this post. Chemestry has the more user-friendly design, a less structured communications process and (it seems) a younger user based. eHarmony has the more comprehensive personality questionnaire and it's users tend to be more marriage-focused.
Price
The cost per month for eHarmony's Compatibility Matching System drops significantly as you sign up for longer period of time. One month is $60 (in USD, or the equivalent in your local currency), 3 months for $120 ($40/month), 6 months for $180 ($30/month) or 1 year for $240 ($20/month).
If You Go Join eHarmony . . .
A lot of your experience with eHarmony will depend on your answers to their personality test when you first join. Set aside a good chunk of quiet time (45 mins to 1 hour) to answer those questions as accurately as you can.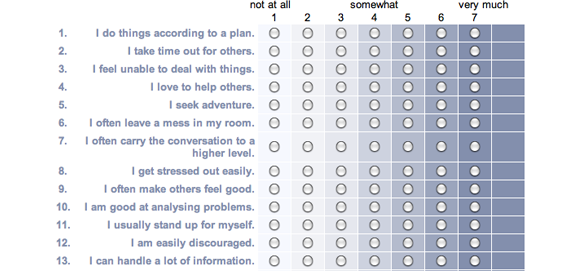 How it works
If you are a regular Spot Cool Stuff reader, you may have already read our review of the How About We dating website.
For those who haven't, here's the short version: Instead of getting paired via a personality profile (a la eHarmony) or searching through people's profiles (as on Match), users on HowAboutWe search for appealing date ideas. Maybe it's going for a lake-side jog, or attending a punk rock concert or volunteering at a shelter.
The idea being that, at worst, you end up having a good time and doing something you enjoy. At best, you find friendship — or romance — with your date partner.
(It is worth noting that Match.com has a feature similar to this called DateSpark, though it is an ancillary feature of the site, not the driving force that it is on HowAboutWe.)
Who uses it
Generally speaking, HowAboutWe's user base tends to be younger and urban. Because of the way the site works, people tend to be looking for activity partners first and romantic interests second.
Why we like the website
Because the emphasis is on enjoying an activity, meeting some one new feels more like a fun experience and less like a pressure-filled "date."
Price
Creating a profile is free. Unlimited messaging, along with select site features, requires a fee. Exactly how much depends on how long you sign up for. The optimum length to price ratio is at $9.99 per month for 6 months.
If You Join HowAboutWe . . .
The hard part is coming up with a date idea that's fun, creative and fits with your personality. Keep in mind that lots of people will be suggesting all the standard date ideas (like going to a bar for a drink) so try to come up with something original.


How it works
Most dating websites exist on a spectrum of super serious to super casual. As mentioned, eHarmony is more on the serious end — many of its users tend to be marriage-focused. Flirt is very much on casual end of that spectrum. Though — critical to gaining Spot Cool Stuff's recommendation — the site manages to provide an online forum for flirtation without crossing the line into sleazy.
Flirt works on a profile and open messaging system similar to that used by Match.com. Compared to Match, profiles on Flirt tend to consist of less text and more photos. The people who have the most success on Flirt — and we don't think this will come as a shock to you — are those who post the most alluring photos of themselves.
At the time of writing, Flirt only operated in the United States. For international websites, or for other options similar to Flirt that might work better for you, see our short review of the best casual dating websites.
Who uses it
Users on Flirt tend to skew younger (eg. under 32) and the majority are looking for a physical encounter. That doesn't necessarily mean they are only looking for a one-night stand, but they aren't necessarily opposed to one either.
Why we like the website
Though not Spot Cool Stuff proverbial up for tea, we like how Flirt makes no apologies for exactly what it is. The site is also well designed, very user friendly and has more than four million users.
Price
It's free to create a profile. For full functionality, it's $19 a month.
If You Join Flirt . . .
Almost all the profile descriptions on Flirt are exceptionally bland. Put a little extra time into yours, insert a bit of wit, surprise with a spark of creativity and you'll really stand out from the crowd.

Zoosk, OK Cupid & Free Dating Websites
In our original version of this review we didn't include any free dating websites. And we got a lot of comments — some of which are published below — bemoaning that fact. Others supported our choice.
The reasons no free dating websites made our "best of" list are fivefold:
First, sub-par useability. With the exception of OK Cupid, none of the free dating websites we tried out (and we tried out a bunch) had a very friendly user interface.
Second, relatively small active user base. No free site had as many actively engaged people to choose from as does Match or eHarmony (or Chemistry or some of the other pay sites, for that matter). Also, singles on free websites tend to be predominantly female — though we suppose that's not a downside for those seeking single women.
Third, safety. The overwhelming, vast majority of people on dating websites (like the overwhelming, vast majority of people everywhere) are good and decent. Of the very few people who post spoof profiles or are on dating websites for some nefarious purpose, most are on free websites because they don't want to leave the identifying information of a credit card.
Fourth, signing up for a free website tends to result in being sent lots of spam. Because those sites have to make their money somehow.
But our fifth reason is by far the largest: Users of pay websites tend to be more active and more committed to online dating than those on free sites. Many people on free dating sites post their profile and are never heard from again. People who are paying for a site tend to take the time to use it.
With all that said, the best free dating websites we found was OK Cupid. It's a personality test-driven site and, unlike most other free dating websites, it is mostly (but not entirely) free of ads.

And the Best Online Dating Website Is . .
. . . whichever of the above four sites fits your circumstances best.
Match.com will be the best website for the plurality of people reading these words. If you've studied this entire article and still aren't sure which site to join, then Match should almost certainly be your choice. Match has the largest—and most diverse—group of users. It is also the best value among the dating sites and comes with six-month success guarantee.
That said, you may well be one of those for whom Match.com is not optimal:
eHarmony is the best online dating site if you seek a relationship that will lead to marriage. eHarmony users are, generally speaking, looking for longer term relationships than are the users of the other three sites reviewed here. We are also fans of eHarmony's Compatibility Matching System. Some people are put off by eHarmony's regimented communication rules. If you are one of those, consider Chemistry.com instead.
HowAboutWe is best if you'd be as happy finding an activity partner as you would a significant other. We often suggest that singles pay for a Match subscription AND sign up for a free HowAboutWe profile. The two sites compliment each other well. HowAboutWe (unlike Match) allows for some communication on a free account. And you can always upgrade to a fully functional HowAboutWe account if you find it working for you.
Fling is the site for you if you are looking for, well, a fling. Simple as that.




A Final Thought . . .
Years ago, one of us here at Spot Cool Stuff (who will remain anonymous) went out on an online-arranged date with a woman we'll call Jane. All the email interaction with Jane was great. So we agreed to meet for lunch, at which point Jane was promptly revealed to be planet's most apathetic person.
Our conversation started badly and deteriorated from there. You know you are in for a painful first date when "What's your favorite food?" is one of the discussion topics. And when it generates no discussion:
SCS: So . . . um . . . what's your favorite food?

JANE: Food's okay.

SCS: I mean, what kinds of food do you like?

JANE: I wouldn't eat if I didn't have to.

SCS: Well, what do you tend to cook for yourself at home?

JANE: You know, stuff.

SCS: Stuff?

JANE: Yeah, like when I'm bored. Then I'll cook things, mostly.
Things mostly?! There was a great temptation, resisted, to ask about the non-things Jane was eating. Instead, we trudged through 40 minutes of conversation along the lines of the above snippet and then bolted from the lunch restaurant as quickly as possible.
Almost every veteran of online dating has bad date stories. And almost every one has met good people too, people who have gone on to at least become friends. Many, many people form intimate relationships through online dating. And many form marriages. For some, it doesn't work at all.
There is some extent to which online dating is a skill, an activity that can be done better with practice. But there's also an extent that it is random.
Whatever online dating site you decide to use, we urge you to go for it! And to keep at it.
Please, feel free to share your online dating experiences in our comments section. Or to ask questions.
Good luck. We wish you romance in your future.

MATCH USA & CANADA
/
UK & INT'L
|
eHARMONY
|
HOW ABOUT WE
|
FLIRT
updated: 30 Nov 2012