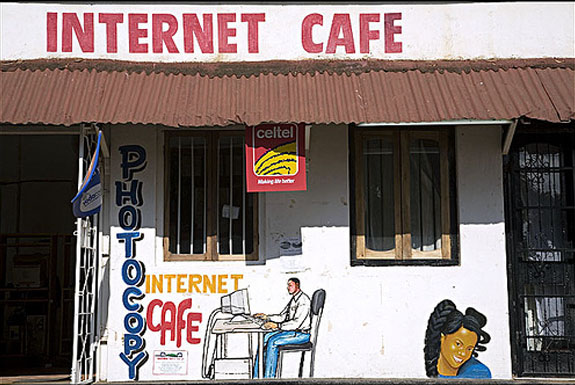 There are thousands of websites where you can research trip ideas (Spot Cool Stuff's own travel blog not least among them) and hundreds of websites where you make your trip reservations—from general booking engines like Expedia, Travelocity and Orbitz to niche sites like Cruise Direct, Mr & Mrs Smith and HostelBookers, to a site like Tripology that will hook you up with a travel specialist for free.
But what after your accommodations are booked, after your travel guidebook is bought, after your general itinerary is set and after you've left for your trip? What are some useful sites for while you are traveling?
Here is a selection of our favorites for doing the following from the road:

Send your photos as postcards
Even in the age of email, people love getting postcards. Next time you are on a trip don't settle for sending a postcard with an impersonal photo hastily purchased at a hotel gift shop. Send a postcard with a photo you took. At the Hazelmail website you can upload a photo, enter the address of one or more recipients, type a brief message, and click SEND. Hazelmail will automatically print your postcard with your photo, put a stamp on it and mail it out. The Hazelmail user interface is extremely simple and intuitive. And the cost of a single card is only US$1.50—less than the cost of buying your own postcard and stamp in many places.
GO TO THE HAZELMAIL SITE | READ OUR FULL SITE REVIEW
Related posts: Nikon D80 vs D90 vs D300 | Your Best, First Digital SLR Camera




Stay in touch
On international trips avoid paying expensive cell phone roaming charges or outrageous hotel telephone surcharges by popping onto an internet cafe and making your call through Skype. (Alternatively, if you have an iPhone or a Skype wifi travel phone you can call via Skype from an internet hotspot sans computer). The vast majority of public internet cafes already have the Skype software installed and many have headsets you can talk on. All you need do is log into your account and dial your number, landline or mobile, as you would on a normal phone. We suggest establishing your account and buying a few calling credits before you leave for your trip to avoid typing your credit card details into a public computer.
Related posts: Best Skype Phones | MagicJack vs. Vonage vs. Skype




Share your travels
Want your family and friends to virtually follow along on your trip adventures? There are several sites that make it easy—and free!—for you to create a basic travel blog and to update it from the road—no technical or programming knowledge required. Two of our favorite such services are Map Vivo and TravelPod.
As its name suggests, Map Vivo places more emphasis on your mapping your travels; for every destination on your route you can write a little about it through the Map Vivo interface and upload a few photos. The site's user interface is extremely well done.
TravelPod makes use of maps too, but the layout is more text-and-photo based. If you are planning on writing a lot in a single post, or plan on writing multiple posts on a single location, you'll do better on TravelPod than Map Vivo. TravelPod blogs also come with a guestbook where people can comment on your trips.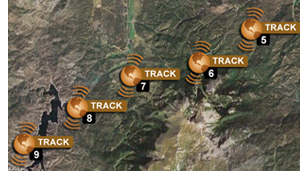 If you want your acquaintances to follow your trip online without you doing the work of updating a blog then consider getting a Spot GPS Tracker and Satellite Messenger. The Spot comes with an optional package through which a password-protected website is created with a map that continuously updates your last known location via GPS. As long as you have your tracker device activated—and have a clear view of the sky—people with access to your website can know exactly where you are in real time! Very cool.
MAP VIVO | TRAVELPOD | READ OUR FULL REVIEW OF THE SPOT GPS TRACKER
Related posts: Best WordPress Blog Hosts | 5 Great WordPress Plugins For Travel Blogs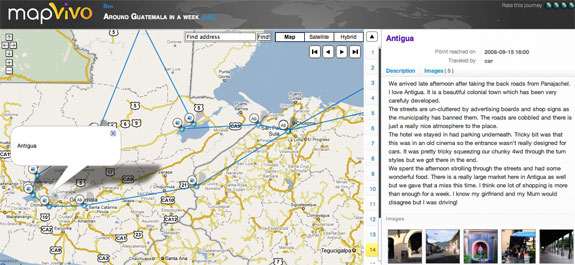 Get advice from others
For proof of how helpful the Twitter microblogging site can be while traveling look no further than the @twitchhiker, aka Paul Smith, who traveled for one month, from England to New Zealand, using only transportation and accommodations arranged through Twitter on less than 72 hours notice.
You needn't be such a travel extremist to make use of Twitter's power to create instant connections. Looking for a shop on Bali that rents surfboards? In Paris and want a local to show you around? Put out a general call on Twitter and see what comes back. Or, write to a specific Twitterer asking for advice. If you are heading to northeastern Nova Scotia, for example, check out @AuthenticCoast. If you looking for lesbian-oriented travel advice try @Girlports. (And if you are a lesbian traveling to northeastern Nova Scotia, well, there's probably somebody on Twitter than specializes in that too.)
As for good people on Twitter to follow for general trip advice, check out this list of our favorite travel tweeters.
A few of the tweeters worth special mention include Spot Cool Stuff friends @thetripchicks, @parisbao, @catekiwi, @WanderingEds, Keith (of Velvetscape) and @kag2u (of Travellious), travel writers/editors @wendyperrin, @Marilyn_Res and @TravelEditor, travelers @soultravelers3, @worldtravelista and @earthXplorer , cool tour providers @geoex, consumer oriented twitterers @travelrants, @AirTreks and @buycruises and bloggers @BrilliantTips, @BootsnAll, @awayblog, @kathika, @nileguide, @nomadicmatt, @OysterHotels, @thetraveleditor and @Gadling.
Also, on the 29 Travels website you can great a map of where you've traveled and send it out to your Twitter followers.
But if you aren't established on Twitter, or if the very mention of the word "Twitter" makes you involuntarily convulse, check out Travellr, a social networking site where travelers and locals virtually meet and share advice. Ths site operates something like cross between a forum and a travel-centric version of Facebook—the idea is to make connections that translate into a better trip. Travellr is currently still in beta form; you can access it through the beta key "spotcoolstuff."
FOLLOW US ON TWITTER | FOLLOW OUR FAV TRAVEL TWEETERS | TRAVELLR | 29TRAVELS
Related posts: Best Twitter Apps | Best Online Dating Websites

Fly with more safety and comfort
For many travelers the most stressful part of any trip is the airplane flight. Three websites that help reduce, or preemtively guard against, the pain of air travel:
Priority Pass is a membership program that allows you (and your family members traveling with you) to use over 600 airport business class lounges no matter what airline—or what class of service—you are flying.
Trace Me Luggage Tracker provides their customers with a traceable luggage tag. If/when your bag gets lost in flight you fill out a missing luggage report with the airline that includes your Trace Me serial number. If/when airline agents comes across your bag they'll scan the bar code on your luggage tag and you'll automatically be sent an email and SMS text message with your bag's location. Alternatively, if a security person or private citizen comes across your luggage they can let you know by entering your bag's serial number on the Trace Me website. Of course, the Trace Me tag won't prevent your bag from getting lost in the first place. But it will increase your chances of seeing it again.
PRIORITY PASS | OUR FULL REVIEW OF PRIORITY PASS | TRACE ME | CLEAR CARD
Related posts: The World's Best Airplane Blanket | The Power Assisted Wheeled Suitcase

Find the best nearby restaurant or bar
You are traveling in an urban area and looking for a great restaurant or cool bar. Your guidebook might have a few suggestions but, chances are, it is out of date. Bars are constantly going in and out of business; a restaurant that was excellent a few months ago might not be now. For the most up-to-date recommendations on water holes and eating out spots a subscription to Zagat is powerfully useful. Recommendations are updated daily and highly searchable. Coolest of all: you can access Zagat on your cell phone, iPhone, PDA or Kindle.
GO TO THE ZAGAT SITE (save 40% now)
Related posts: Unusual Restaurants | 5 Cool Caribbean Beach Bars | Eat with Giraffes

Get the weather
There are lots of sites that provide weather forecasts. Our favorite among them—especially while traveling—is AccuWeather. Their service has a strong international reach. They have versions of their site that are especially cell phone and iPhone/iTouch friendly. But what we like most about AccuWeather is that they break down their 48-hour forecast in two hour increments—if you want to know what the weather will be at 2pm, as opposed to noon, AccuWeather has that. Also, unlike almost every other weather website, AccuWeather has daily forecasts for up to 15 days in advance.
Related posts: Senz Windproof Travel Umbrella | Ice Bars in Warm Places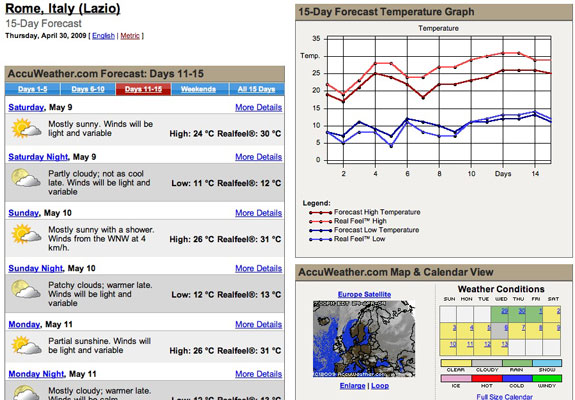 Know of another great website to use while traveling? Visit our comments section, below