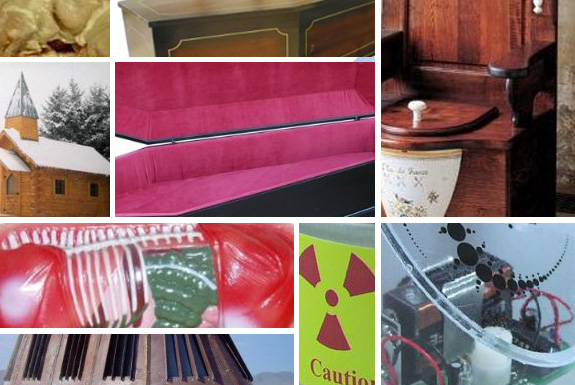 Almost everyone knows Amazon.com for its bargain deals on books and electronics. Amazon is also a good source for discount groceries. We like their DRM-free MP3 store (even more than iTunes). And we love their Amazon Kindle. But Amazon also has a surprisingly large selection items that defy categorization, from the odd to the downright wacky.
Here's our look at some of the weirdest items for sale on Amazon and the solution they provide to some of life's most common problems:

Badonkadonk Land Cruiser/Tank
Common life problem: When cruising the Utah salt flats in a convertible you are highly vulnerable to attacks from Sand People, from roving Mad Max motorcycle gangs and from birds pooping overhead.
The obvious solution: A Land Cruiser Tank. You and your four closest friends will be safe within the armored steel confines of the Badonkadonk. Cruise along at up to 40 mph (64 km/h) as you relax in this tank's fully carpeted interior while listening to its 400-watt stereo system. Yours for the bargain price of $20,000
LEARN MORE & BUY | JOIN US ON TWITTER / FACEBOOK |
Related post: Flying Cars Ready For Take Off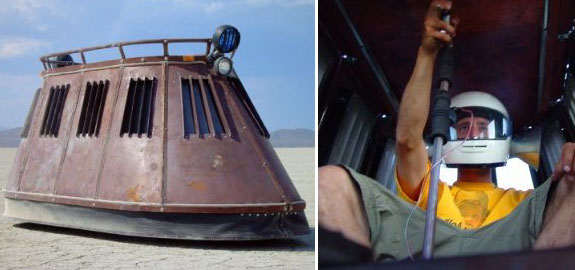 Uranium Ore
Common life problem: Radioactive material is such a pain to get a hold of, what with the threat of international sanctions and the North Korean leadership not accepting your repeated Facebook friend requests.
The obvious solution: Canisters of uranium ore. The exact amount of uranium you'll receive for your $29.99 will vary from one canister to another, but that's all part of the fun. Obtaining a single canister through the mail is apparently in compliance with sections 13 through 40 of the Nuclear Regulatory Commission rules; to carry out your plans for world domination you may need to purchase a few thousand. Inquire about bulk shipping deals.
LEARN MORE & BUY | JOIN US ON TWITTER / FACEBOOK |
Related post: A Visit to the Las Vegas Atomic Testing Museum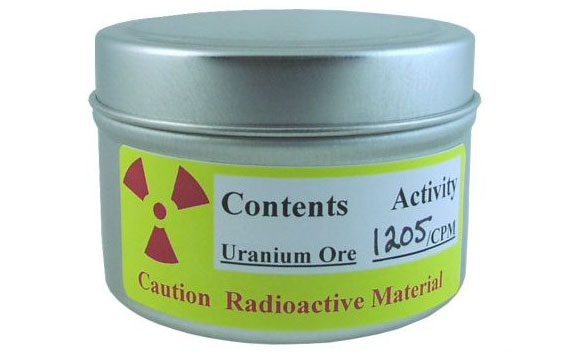 Powder Room One-Piece Elongated Toilet
Common life problem: One's toilet is often described as "a throne" but recently you've felt less-than-royal while doing your business there.
The obvious solution: The Dagobert Wooden Toilet Throne. This toilet's design comes from the 8th century ruler of the French Merovingian dynasty. The Merovingians are today renown for their crappy dynasty, so you know this toilet is good. $9,180
LEARN MORE & BUY | JOIN US ON TWITTER / FACEBOOK |
Related post: A Look at the World's Toilet Restaurants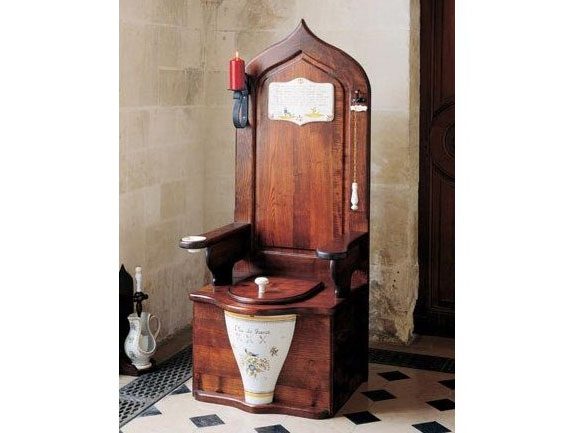 Nicodemus Coffin Bed & Coffee Table
Common life problem: Your current bed is too spacious for you to get a good night's sleep.
The obvious solution: A Nicodemus coffin bed. You'll sleep like the dead in this solid pine bed that's lined with burgundy velvet and comes with a 6-inch thick mattress. Got family visiting from Transylvania? Order a few extra coffin beds for the guest room. Worried that the Nicodemus will clash with your other, more life-affirming, furniture? Get a coffin coffee table to go with it! Both the coffin bed and coffee table are currently on sale at Amazon for substantial discounts.
LEARN MORE & BUY: COFFIN BED / COFFIN COFFEE TABLE |
Related post: Vegas Weddings Go Gothic


UFO Detector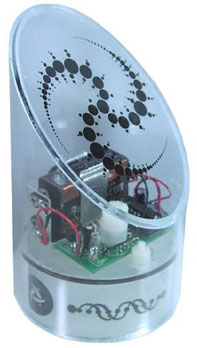 Common life problem: Space aliens often make circle patterns in your crops but always when you are asleep or are somehow preoccupied.
The obvious solution: A UFO detector. This space-age piece of sophistication senses magnetic and electromagnetic disturbances. Any NASA engineer will tell you that these disturbances are undeniable evidence of nearby UFO activity. Mankind making contact with extraterrestrial life would perhaps be the most monumental event in human history, an event this detector will warn you about with a series of flashing LED lights. Just make sure you've installed a charged 9V lithium battery (not included). $95
LEARN MORE & BUY | JOIN US ON TWITTER / FACEBOOK |
Related post: Arecibo, Puerto Rico: The World's Largest Radio Telescope

Fresh Whole Rabbit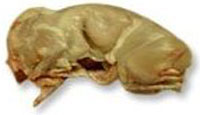 Common life problem: Your wife insists you pick up your spear, get out there and not return to the cave without bringing back fresh meat for your tribe. But your hunting instincts aren't what they used to be.
The obvious solution: A fresh whole rabbit. Why should you go sneaking around your bushes looking for a rabbit when the UPS guy can bring one to you? Amazon un-ironically describes this meat as having a "nutty aftertaste." $38.50
LEARN MORE & BUY | JOIN US ON TWITTER / FACEBOOK |
Related posts: The Hotel Where Guests Eat Breakfast With Giraffes, The Cave Hotels of Cappadocia, Turkey

Full Sized Wedding Chapel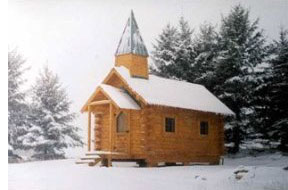 Common life problem: You and your fiance simply can't decided between getting married in a traditional chapel or getting hitched in your back yard.
The obvious solution: A 10 x 18 foot (3 x 5.5 meter) wedding chapel. Order through Amazon and 6 to 10 days later this chapel will show up at your house fully assembled, complete with a front porch, groove flooring and hinged windows. There's no need for you to have carpentry skills or Amish laborers. Unfortunately, this product does not quality for free Amazon Prime shipping. $21,420
LEARN MORE & BUY | JOIN US ON TWITTER / FACEBOOK |
Related post: Your Personal Online Wedding Planner

Acupuncture Pig Model
Common life problem: Your pig is suffering from low qi. You could solve the problem with your set acupuncture needles if only you knew where to stick them.
The obvious solution: An acupuncture pig model. This particular model is the SM-9, implying that there are eight others to choose from!? The SM-9 comes with a Chinese-English chart of a swine's meridians. But if your acupuncture session goes horribly wrong you can always have pork for dinner.
LEARN MORE & BUY | JOIN US ON TWITTER / FACEBOOK |
Related post: Latvia's Bizarre Medical-Themed Restaurant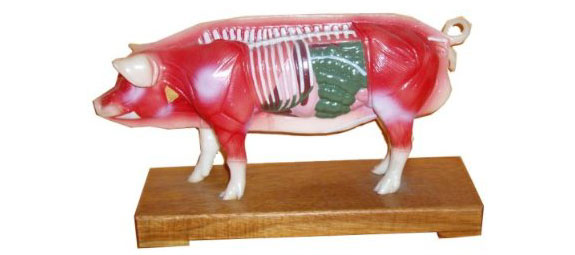 SHOP AMAZON.COM | JOIN US ON TWITTER / FACEBOOK





updated: 26 Nov 2010