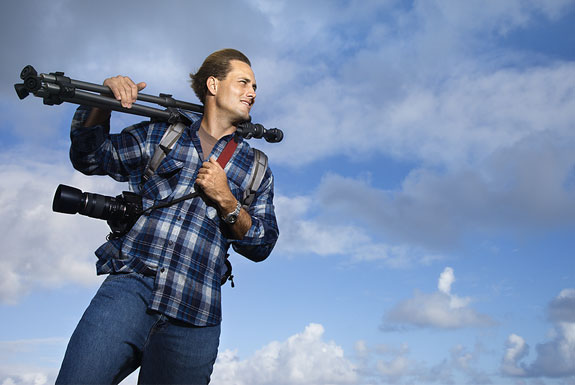 Professional and semi-professional camera equipment can be expensive. Really expensive. Potentially the-equivalent-of-buying-a-car expensive. For photography enthusiasts who can't afford high-end camera gear—or are leery about making the financial plunge for it—there's a cool website that will let you rent cameras, lenses, lighting another photography accessories: Borrow Lenses.
Why rent
There are several reasons why renting might make sense for you. The obvious ones: 1) You can't afford the quality of photography gear you want/need; or) you'd like to try out a piece of equipment before buying it.
In addition, Borrow Lenses is a useful source for specialty gear. (Maybe an 8mm fisheye lens is the sort of thing you only need to use rarely?).
The site also does an excellent job at being among the first to get new gear. For instance: At the time of writing you could not pre-order the upcoming, super-fast Nikon 85mm f/1.4G AF-S lens (not even on Amazon.com) but you could reserve one on Borrow Lenses.
How the website works
It's pretty easy. Search through the Borrow Lenses website for what you'd like to rent. Then select your rental period: 3, 7 or 10 days or 2, 3 or 4 weeks.
If you happen to live near San Carlos, CA you can pick up and drop off your rentals in person. If you live in northern or southern California you can have your gear couriered to one of a dozen drop-off points for a $15 or $20 fee.
Elsewhere in the United States, your rented photography gear arrives via mail. The cool part: Borrow Lenses also sends a box—already labeled and with pre-paid shipping—for you to return your rental.
Sadly Borrow Lenses does not ship outside of the USA. But there are several similar sites that serve markets elsewhere, including Lens Lenders in Canada, Peartree in London, Calumet in a variety of countries in Europe and Japan Camera in you-can-guess-where.
In general, the more expensive the thing you are renting the more cost effective it is. A few examples:
Camera Lens Purchase vs Borrow Lenses Rental Cost
| | | | | | | | | | |
| --- | --- | --- | --- | --- | --- | --- | --- | --- | --- |
| | Camera Lens: | | Retail price (US$) | | Amazon discount (US$) | | Borrow Lenses 3-day rental | | Borrow Lenses 10-day rental |
| | Carl Zeiss 85mm f/1.4 Planar T* ZF for Nikon | | $750 | | $750 | | $46 | | $93 |
| | Olympus 8mm f/3.5 Fisheye ED | | $900 | | $720 | | $44 | | $91 |
| | Leica 90mm f/2.5 | | $1,695 | | $1,695 | | $48 | | $115 |
| | Nikon 24mm f/3.5D ED PC-E Tilt-Shift | | $2,350 | | $2,200 | | $54 | | $106 |
| | Nikon 70-200mm f/2.8G AF-S ED VR II | | $2,450 | | $2,450 | | $65 | | $127 |
| | Canon EF 14mm f/2.8L Mark II USM | | $3,800 | | $2,241 | | $57 | | $111 |
| | Canon EF 400mm f/4 DO IS USM | | $10,300 | | $6,799 | | $139 | | $275 |




Camera Purchase vs Borrow Lenses Rental Cost
| | | | | | | | | | |
| --- | --- | --- | --- | --- | --- | --- | --- | --- | --- |
| | Camera or camcorder: | | Retail price (US$) | | Amazon discount (US$) | | Borrow Lenses 3-day rental | | Borrow Lenses 10-day rental |
| | GoPro HD Hero Rugged Video Camera | | $300 | | $230 | | $32 | | $59 |
| | Canon EOS 60D Digital SLR | | $1,000 | | $1,000 | | $65 | | $127 |
| | Nikon D300s (body only) | | $1,700 | | $1,655 | | $101 | | $200 |
| | Canon EOS 5D Mark II (body only) | | $2,700 | | $2,700 | | $136 | | $270 |
| | Canon EOS 1D Mark IV Digital SLR (body only) | | $6,000 | | $6,000 | | $194 | | $384 |
| | Panasonic AG AF100 Camcorder | | $6,000 | | $6,000 | | $291 | | $441 |
Gear Purchase vs Borrow Lenses Rental Cost
| | | | | | | | | | |
| --- | --- | --- | --- | --- | --- | --- | --- | --- | --- |
| | Piece of photography gear: | | Retail price (US$) | | Amazon discount (US$) | | Borrow Lenses 3-day rental | | Borrow Lenses 10-day rental |
| | 58mm Circular Polarizing Filter | | $79 | | $37 | | $6 | | $13 |
| | Novoflex Mini Focusing Rack | | $286 | | $248 | | $15 | | $28 |
| | Sekonic 358 Lightmeter | | $554 | | $309 | | $11 | | $21 |
| | Quantum Instruments Qflash | | $907 | | $706 | | $TKT | | $TKTK |
| | Profoto 901053 D1 Studio Kit | | $3,335 | | $2,379 | | $152 | | $278 |
published: 5 Apr 2011

GO TO THE SITE | JOIN US ON TWITTER / FACEBOOK |
Related posts & pages:
Review of the Best (and Best Value) Nikon Lenses
Car Rental Deals
5 Cool Photoblog Websites
8 Amazing Flickr Photostreams