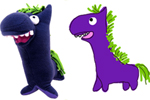 Spot Cool Stuff laments the general direction children's toys have taken away from requiring imagination. Surely, part of the issue has been the proliferation of online gaming websites aimed at kids.
But if websites have been part of the problem maybe they can be part of the solution? That's the idea behind the Israel-based start-up Shidonni.
Shidonni has a variety of fun, imagination-enhancing online games for children. Kids can draw animals, for example, upload the drawing to the Shindonni site, and then have their animal creation roam around the virtual Shindonni world for others users to see.
And here's our favorite part: On Shidonni you can take a child's drawing of an imaginary creature and then turn it into a real life stuffed animal!
---