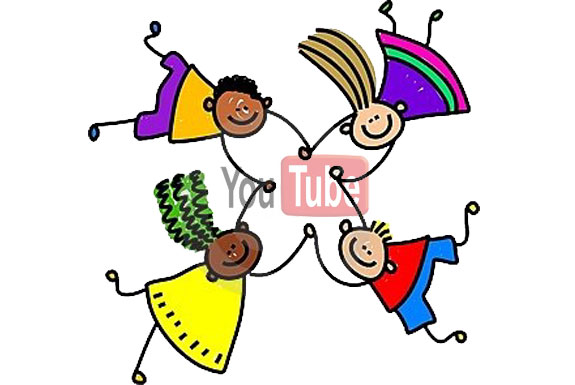 Last night we were with a 5 year old and a coughing, sneezing 7 year old watching videos on YouTube. It was a blast. The kids loved laughing at the antics of silly pets, laughing babies, dancing toddlers and funny cartoon characters. The adults appreciated a quiet, non-headache causing, pre-bedtime interactive activity; and, of course, we love seeing the kids laugh.
The problem is that there's no good way to know in advance what videos are age appropriate. Last night, we happened upon a cartoon video about a surly unicorn, Charlie, who reluctantly joined two obnoxiously happy unicorns on a trip to Candy Mountain. The video seemed geared towards kids . . . until the last 20 seconds of the video when it was revealed that the two happy unicorns had lured Carlie to Candy Mountain for the purpose of drugging him and harvesting his kidney. The children watching this were left confused and horrified. An awkward conversation ensued.
Fortunately, there are family friendly ways to enjoy online videos while avoiding the likes of Charlie The Unicorn. Some websites to help you out:
YouTube Related
Totlol is a cool community-drive site that culls child-friend videos from YouTube. The videos are intended for kids from 6 months to 6 years, though most of the selections seem aimed at the 3~4 year old set. The navigation is very similar to that on YouTube.
Kideo Player has preselected a group of kid-friendly videos and shows them within an interface that couldn't be more simple: Hit the space bar and the Kideo Player moves on to the next video. There's no selecting what video you'd like to see. The simplicity of it means that you can put your toddler at the controls, though some parents might be dismayed at the lack of a pause button. Most videos are aimed at a very young age, 2~4 years old.
It's A Good Year is similar to Totlol except that it has fewer videos and aims at a slightly older audience, up to 10 years old.
YouTube itself has a plethora of kid-friendly channels. Some are created by individuals, others are centered around specific TV shows or video producers, like the Sesame Street and Kids Incorporated fan channels. Sadly, none of these channels are vary large; you have to be a bit careful too since it is easy to unintentionally navigate out of the channel you are in.
Children's YouTube is an inconsistently updated blog with huge potential. Here a few (but growing) number of YouTube videos are incorporated into the blog posts. The videos are labeled by category making it easier to find the sort of video you are looking for here than on YouTube itself.
Safe Eyes is the best program out there for blocking YouTube videos you don't want your kids seeing. It is also the only software that will block YouTube videos embedded in non-YouTube sites. The software does not provide a perfect filter—it would not catch that Charlie The Unicorn video we watched last night, for example. However, it has many other safe surfing features and can help protect your kids were they to sneak onto your computer without you knowing. (Not that ours would do that).




Non YouTube Related
Kid Videos is a really excellent YouTube-like site where the videos are not only geared towards kids, they are made by kids. This is a great place to head of you children are expressing interest in producing, or being in, a video.
Many media companies run their own kid-oriented video channels. These include:
Happy viewing!

Do you have a favorite source of kid-friendly online videos we failed to mention? Share it in the comments section: