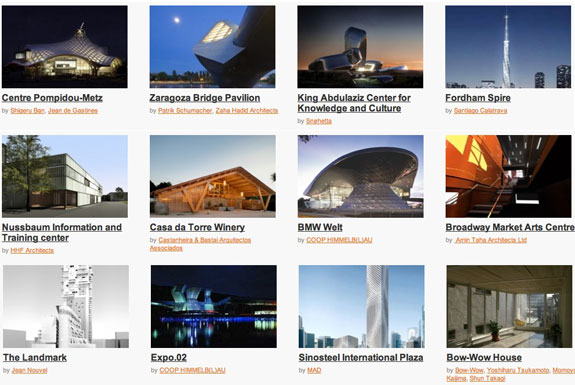 Fans of Spot Cool Stuff's architecture posts—especially those who wish we'd be able to publish them more frequently—would do well to check out Open Buildings.
The goal of the Open Buildings website: collect as much information as possible about the world's cool architecture.
Said information on cool architecture is submitted by online users, Wikipedia-like. Anyone can start a new entry or edit an existing one. But unlike Wikipedia, the Open Buildings site allows users to submit their own photos and encourages people to share their opinion. As a result, many more buildings are covered than you'd find in typical online architecture guides. Sure, you can find information about, say, the Eiffel Tower in a plethora of places. But how many sources have photos of the über cool Selgas Cano Architecture Office in Madrid?
That said, Open Buildings is one of the few sites for which we like the iPhone app more than the website it's based on. Through the app you can locate reviewed buildings near your present location. The app also lets you rate the building and submit photos taken on your iPhone. And that makes discovering and analyzing new architecture as easy as it can be fun.
published: 4 Jan 2011

GO TO THE SITE | iPHONE APPs | JOIN US ON TWITTER / FACEBOOK |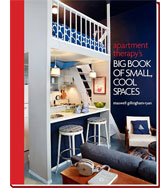 Related posts:
Quirky: The Cool Store of Crowdsourced Products
8 Free Websites For Finding New Music
Monte Rosa Hütte: The Matterhorn's Boutique Hiking Hut
Spain's Frank Gehry-Designed Hotel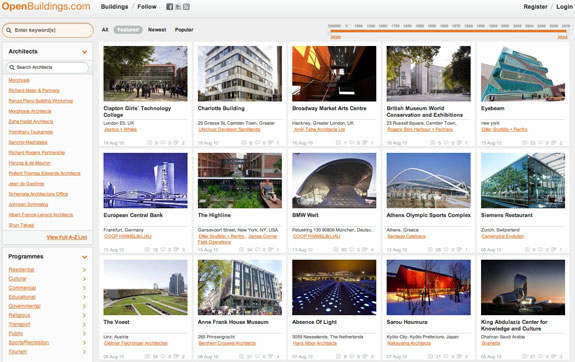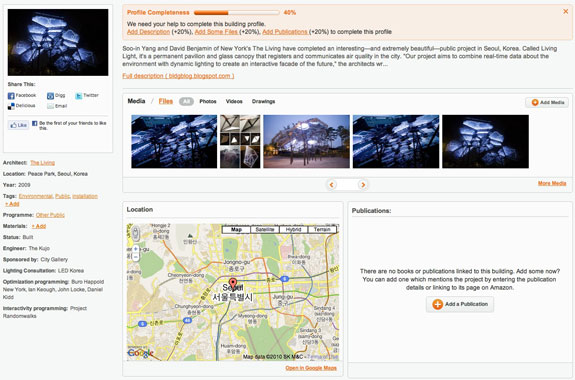 GO TO THE SITE | DOWNLOAD iPHONE APP | JOIN US ON TWITTER / FACEBOOK