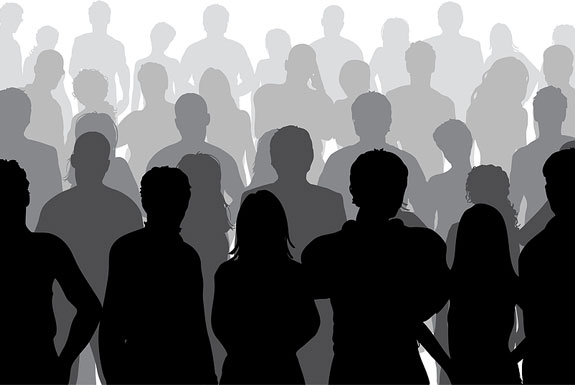 Moments ago, Spot Cool Stuff placed a pre-order at the Quirky online store for a Trek Support Backpack. The waterproof, airport-friendly backpack comes with a form-fitted electronics dock and a 7-hour battery. You charge up the backpack and then can use the dock to charge up to three gadgets at once while on the go.
The Trek Support Backpack is very cool. Or, we should say, it seems to us like it will be very cool. And we aren't the only ones who think so. Afterall, the Trek Support Backpack is the product of virtual crowdsourcing—it was proposed, vetted, designed, refined and branded by a diverse online community. All the other items sold through Quirky are communally designed too.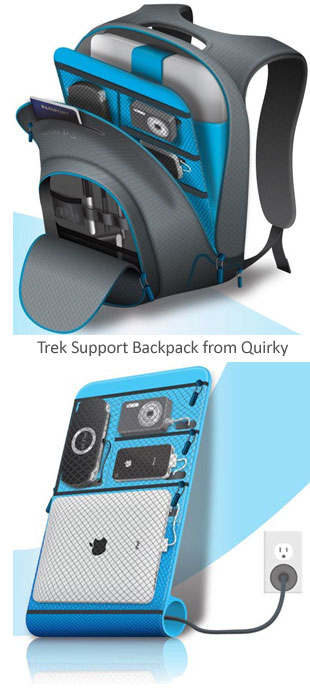 There are a number of websites taking advantage of the internet's amazing ability to convert The Wisdom of Crowds into implimentable ideas. Among our favorite of them is Quirky.com.
Quirky is an online store—one can go there to purchase products. But as much as it is a place for shopping, Quirky is a place for active community. Anyone can create an account (it's free) and then take part in ways large and small. Vote on product names, propose modifications or even submit your own product idea. Among the products currently in the works at Quirky: a new type of luggage security strap, a privacy screen with storage space and an ironing board that provides a "21st century ironing experience." What exactly makes for a 21st century ironing experience? Good question. Read other people's thoughts and share your own.
Much of the collaboration on the Quirky site is done through forums, voting and comments sections. There are also virtual "town meetings" streamed live via video.
You may be wondering why people would take the time to help develop products for someone else. At Quirky there are at least three reasons:
1) It's fun and interesting. As with other community sites, Quirky provides an online forum for meeting new people. Seeing the genesis of a new product design can hold a certain fascination. And who doesn't like voicing their opinion?
2) Help create products you want. Did you ever wish that a certain product existed or that an existing product had new functionality to it? Quirky is a chance to make those wishes reality.
3) Money. For most people this is biggest motivator of all. As you participate in Quirky you earn "Influence." The more you influence a product, the more you earn a stake in that product's financial outcome. Of course, coming up with the initial product idea earns the greatest influence. But coming up with a name for a product or suggesting a refinement earns influence too. At the time of writing, the top Influencer on Quirky had earned nearly US$29,000! Quirky relates this story on their website:
When Ben started his first company to sell the Song Sling for the iPod Shuffle, he invested $185k to get things rolling. The product retailed for $40, and he sold 10,000 units, leaving the company with over $100k in debt. Ouch. But remember, Ben had to set up a company, pay out for tooling, manufacturing, marketing, sales force, travel, building a website, etc. In comparison, had Ben-then known that Ben-now would come up with quirky, well, he could have launched the Song Sling here and with even just 10% influence, he would have earned $12,000. And being in the black is so much cooler.
After a Quirky product is all conceived, designed, speced out and branded there's one more step before it is manufactured: pre-orders. Only after there are enough orders to make a crowdsourced item economically viable will it be made.
The pre-order stage is where our Trek Support Backpack is now. Committing to a pre-order doesn't cost anything—credit cards aren't charged until the product ships. Pre-ordering does give you a discount. And, of course, they help make a product idea a reality.
We'll review the Trek Support Backpack on our travel blog after we've had a chance to try it out. We aren't certain when it will come. But we can't wait to see what everyone came up with.
published: 3 Nov 2010

GO TO THE SITE | JOIN US ON TWITTER / FACEBOOK |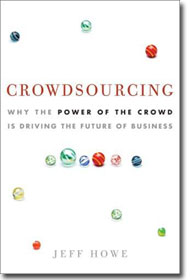 Related posts & pages:
Crowdsourcing the Redesign of the U.S. Dollar
Shidonni:The Website Where Kids Design Their Stuffed Animals
Dunn River, Jamaica: The World's Most Beautiful, Crowded Waterfall
Scottevest: The World's First Line of iPad-Compatible Clothing
Cool Travel Gear
8 Weird and Wacky Items Sold on Amazon.com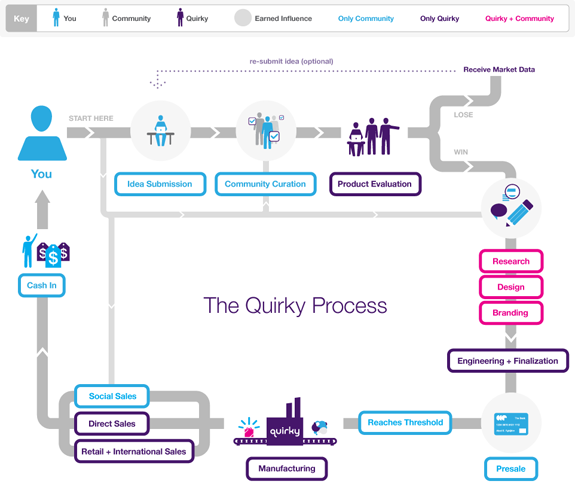 GO TO THE SITE | READ ABOUT CROWDSOURCING | JOIN US ON TWITTER / FACEBOOK