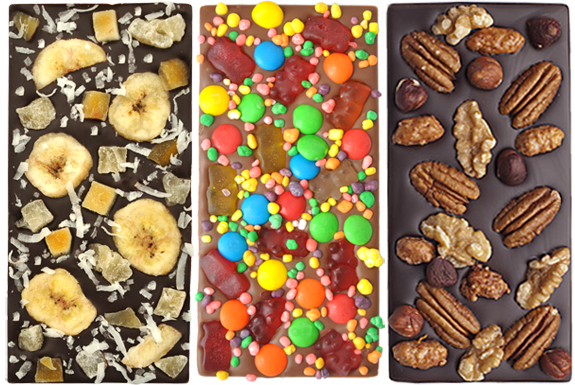 Cardamon. Cranberries. Cookie dough. Potato chips. Cinnamon toast cereal. Bacon . . . Wait, bacon? Yes, Either real or vegetarian. . . . Macadamia nuts. Oreo pieces. Ground coffee.
What sound like random items on a shopping list are ingredients you can use to construct your own personal chocolate bar at what might be the internet's most delicious website: Chocomize




Chocomize makes creating a made-to-order chocolate treat as easy as pie. (Though you may feel like a mad scientist when making your selections). A chocolate bar of cayenne pepper and peanut butter drops? Sure. Pine nuts and Kit Kat pieces? Go for it. Mango, hazelnuts and Cheerios? Yours for the creating (and eating). Chocomize lets you cram as many as five ingredients in one bar, making for a total of . . . [pulling out the calculator now] . . . more than 30 billion different combinations.
The price for this chocolaty magic? Rather reasonable. A basic chocolate bar—your choice of dark, milk or white chocolate—costs US$3.50. Extra ingredients range from $0.40 to $1.85 per bar. Shipping within the United States is a flat $4.95, so you should really order lots of chocolate because, you know, it's more cost efficient that way. Shipping to Canada is a flat US$16.50, eh.
Chocomize also allows users to add decorative touches, like Happy Birthday plaques or crystallized rose petals, on their chocolate bars. The site also offers special deals for ordering in bulk, corporate gifts and wedding favors.
Spot Cool Stuff figures that there's a Chocomize bar that can be created for any occasion:
When going on a camping trip, for example: mini marshmallows and graham crackers.
Creating a chocolate bar for a special celebration? Pop Rocks and/or gummi bears.
Making a custom creation for to a new love? Try strawberry gushers and raspberries decorated with candy sugar hearts.
Need a chocolate bar for the one who just broke your heart? We recommend salt, beef jerky, parsley and Sour Patch Kids.
published: 21 Jan 2011

GO TO THE SITE | JOIN US ON TWITTER / FACEBOOK |
Related posts:
The World's Best Candy Stores
Travel to the Chocolate Hills ← sadly, it isn't what it sounds like
Design Your Own Stuffed Animals
Reviews of the Best Dating Websites