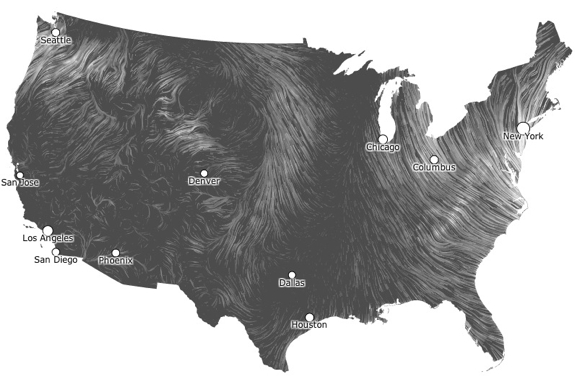 As we write this post, a tropical storm is poised to bear down on Spot Cool Stuff headquarters. But even on calm days there's something oddly captivating about Wind Map, a cool website where you can see how and where wind is sweeping across the United States in almost real time.
The images we have from Wind Map on this post are all stills. On the website, the images are animated, giving a much better sense of the wind's speed and movement. To us, the map looks like a piece of art. Maybe that's because the website was developed by two artists, Fernanda Viegas and Martin Wattenberg. Staring at the Wind Map instills some awe of nature — and is a bit of a psychedelic trip.
Wind Map's map lets you zoom in on a specific area. There seems to be no limit on how far you can zoom in, but the map only locates a handful of cities, and no geographic landmarks, so zooming more than two times quickly renders the map meaningless.
Move your cursor to a spot on the map and a little pop-up will give you the wind speed at that exact location. There's also a a gallery of past days that had unusual wind patterns.
Wind Map only covers the United States, which blows for those who live elsewhere. But regardless of where you are, if you do have to venture out in the wind and the rain, we suggest checking out our review of the wind-proof Senz Umbrella.
published: 29 Oct 2012





GO TO THE SITE | JOIN US ON TWITTER / FACEBOOK / PINTREST / GOOGLE+
Related posts on Spot Cool Stuff:
The Strange Blog of Wonderful Maps
Cool Websites To Use WHILE Traveling
Crumpled City Maps: The Cool Maps You Don't Have To Fold
Elsewhere on the web: