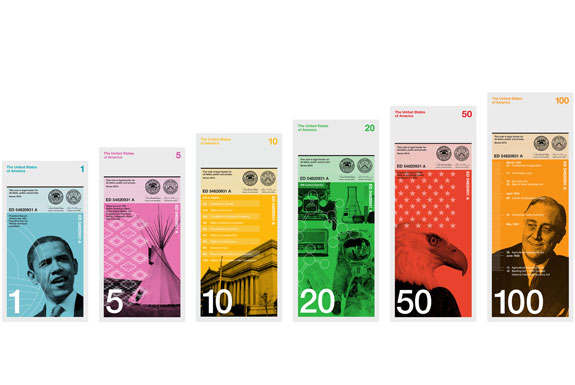 The U.S. dollar—official tender in the United States as well as Panama, Liberia, East Timor and a handful of other countries—is one of the world's most widely used currencies. Its bills are also widely regarded as one of the world's ugliest. To help spur a monetary makeover Richard Smith, a creative strategy consultant, launched a website to collect ideas for new notes: The Dollar ReDe$ign Project.
Of the various designs that have been submitted to the site, one of Spot Cool Stuff's favorites most also happen to be the most controvertial.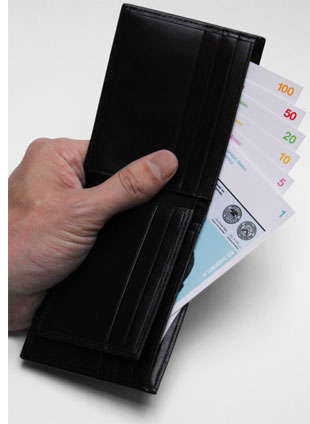 That design, by the London and San Francisco-based firm Dowling Duncan, features President Obama on its $1 bill. Hence the controversy.
Now, before you leave an angry political comment below please take note: Spot Cool Stuff is strictly non-partisan. We don't like the design idea because Barack Obama makes an appearance.
(In fact, we don't think any living person should be honored on a currency note and if one was we'd rather see a non-politican like, say, Maya Angelou or Neil Armstrong or Snoop Dog.)
To our eye the Dowling Duncan design hits the perfect balance between looking artistic and authoritative. We also appreciate how the bill's different sizes are helpful to the visually impaired, the bright colors make the notes easy to distinguish and the vertical orientation allows one to easily see what bills one has in one's wallet. Plus the dollar value on each bill corresponds to the design—the 1st American-American president on the $1, the 50 states on the $50 and so on. The $10 note listing the constitution's first 10 amendments, the Bill of Rights, serves both as a statement of American values and useful legal info.
Disagree with our assessment? Click over to The Dollar ReDe$ign Project website and vote for your favorite. Among the currency redesigns proposed are notes that feature powerhouse American brands (like the NFL and, to Pepsi's chagrin, Coca-Cola), abstract art and the moon landing. Check out some samples, below.
And if you have your own idea for new dollar notes you have until September 6th, 2010 to submit it. The person whose redesign receives the most votes gets an Apple iPad. For free. No greenbacks needed.
published: 19 Aug 2010

GO TO THE SITE | JOIN US ON TWITTER / FACEBOOK |

Related posts:
Reviews of the 4 Best, Cheapest, Easiest WordPress Blog Hosts
8 Highly Unusual Items You Can Buy on Amazon.com – really!
Find Blogging Jobs
Travel Deals & Discounts

Dowling Duncan U.S. Dollar Currency Redesign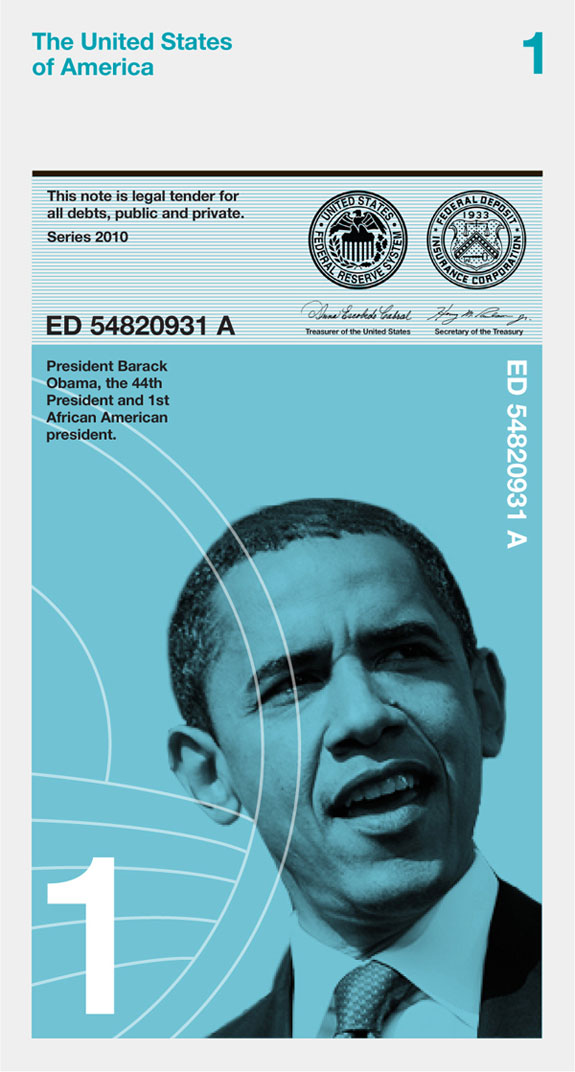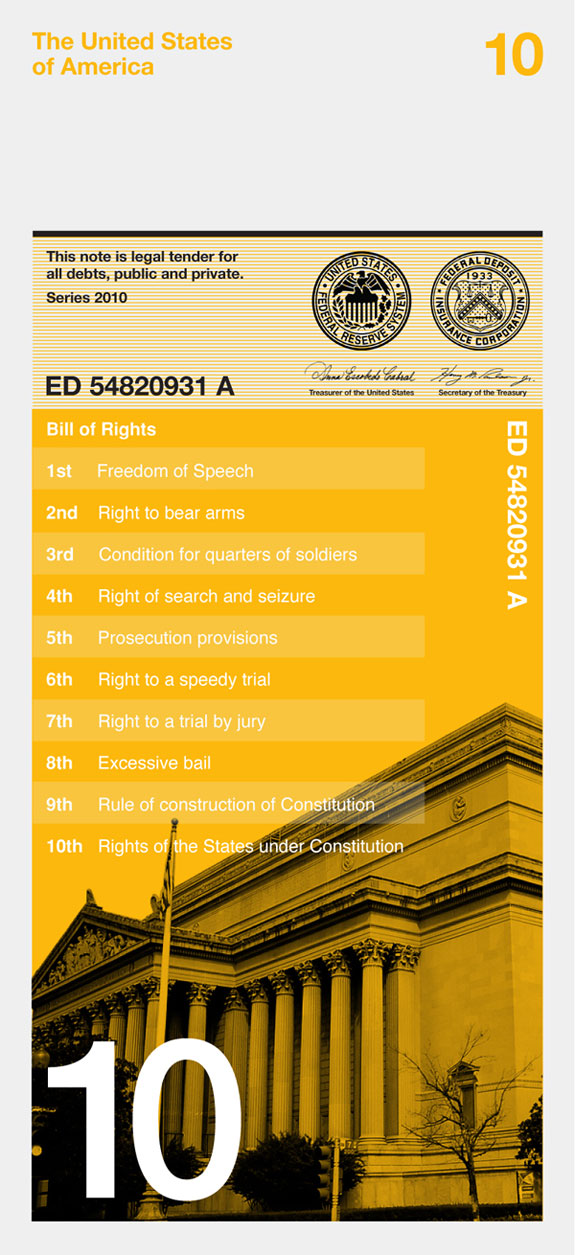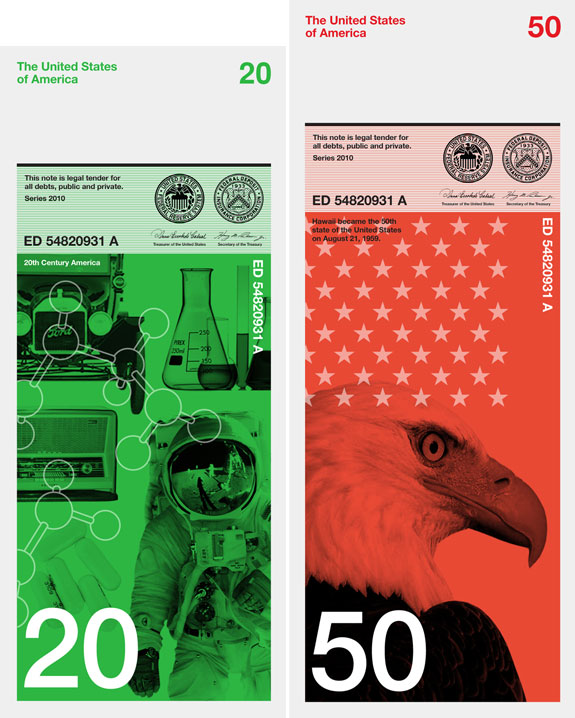 Other Submissions From The Dollar ReDe$ign Project
For reasons that surpass our understanding, lawyers have advised us to make clear that none of the bills depicted on this page are legal tender. Click on the image to go to the corresponding page on the The Dollar ReDe$ign Project website.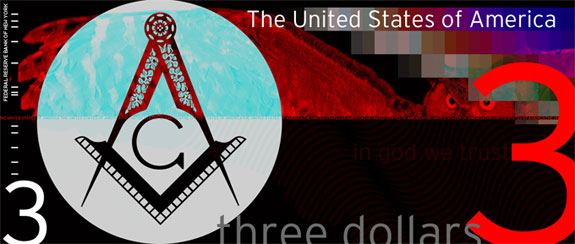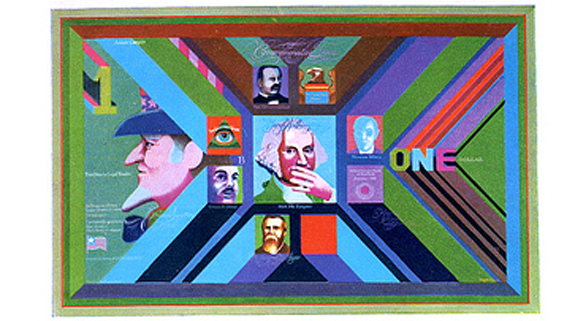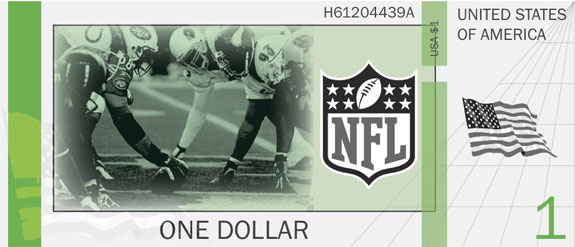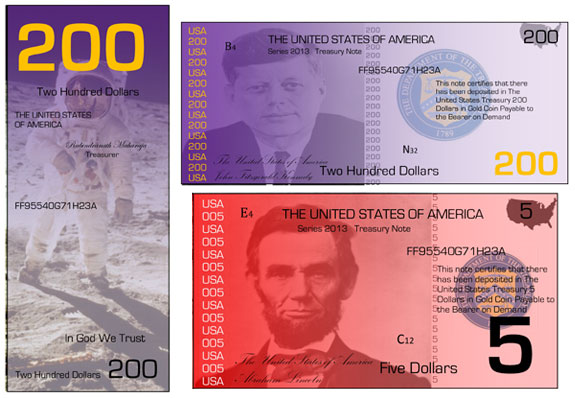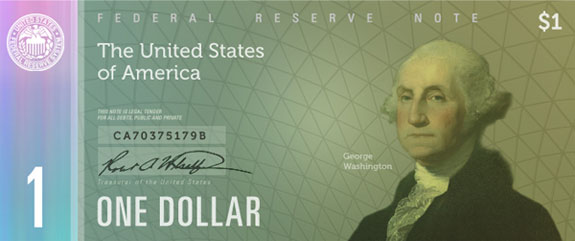 See more coolness on our design blog