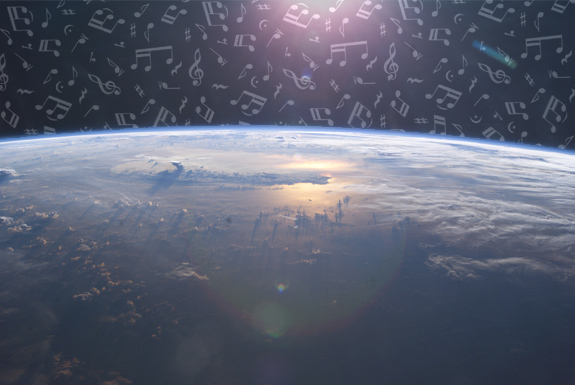 Time was that it was difficult to hear music that didn't make it onto your local radio stations. Which is to say, it was difficult to hear the vast majority of music available.
Not so today. The internet is the great music equalizer. If you are looking to expand your musical horizons, or simply hear a cool tune you've never heard before, here are eight of our favorite sites. Though some have pay options, each site can be enjoyed free of charge:
Musicovery. This site is free?! Audiophiles who want to discover new music, or simply don't know what they are in the mood to listen to, would pay a lot for Musicovery.com. (And, indeed, the site has a premium membership that streams higher quality music). What's so cool about Musicovery is the interface. Select the genre(s) you want to listen to and your mood from a matrix of energetic to calm, dark to positive, and your suggested song starts playing on a page with a a sort of flow chart to similar tunes.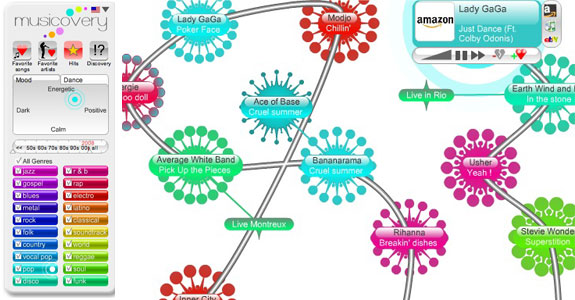 TuneGlue is similar to Musicovery in that you'll get a visual representation of bands that are of similar music styles. The service is powered by Last.fm which is a great site in it's own right for finding new music—type in an artist you like and you'll get great musical recommendations.




Seeqpod is like a music search engine with streaming audio player. Type in an artist and Seeqpod will return all the tracks by that artist that are available on the internet. And we do mean all. Our search for "Kate Nash" came back with nearly 2,700 hits. Through Seeqpod you can play the whole of every track. If available, you'll also get links to that artist's MySpace, Wikipedia and streamSurf pages as well as links to buy the track, buy the ring tone and see upcoming tour dates. For each artist there's also a "Discoveries" tab where you'll get song recommendations.

Contrastream is a site where indie bands—especially in the soul, folk and hip-hop genres—upload songs. Site users then vote on their favorite songs, Digg-style. Most songs are available for free download though not always at the highest quality.
OWL. What a cool idea for a site! You upload the MP3 file of a song you like. Then select the part of that song you like most. Then OWL will analyze that snippet of music and use it to suggest other songs you may like. We've found their suggestions very hit & miss. But it's always fun to see what OWl comes up with.




Pandora misleadingly claims to provide "internet radio."The site is much cooler than that. You type in one or more of your favorite musical artists and Pandora will stream through a playlist of tunes it thinks you'll like. Unlike normal internet radio, you hear all the songs from the start and have the ability to pause and skip tracks. You can also give songs a thumbs up or down. It is well worth creating a free Pandora account because in time the site will get smarter about serving up music to your tastes.
One Llama is certainly not the only aggregator of internet radio stations. But it is our favorite. (Many a post on Spot Cool Stuff have been written to musical accompaniment provided by One Llama). The site generally provides high quality streams, which is one reason why we like it. That the site lists each station's recently played tracks is another. Most of all, we like One Llama's system of browsing stations—find a stream to listen to by genre, artist, popularity or location of origin.

updated: 17 Aug 2010


DOWNLOAD SONGS ON AMAZON / iTUNES | JOIN US ON TWITTER / FACEBOOK
Related posts & pages:
The Next Hit Music Artists
Best Albums You've (Probably) Never Heard
Sonos Wireless: Play Music Throughout Your House
The Bose QuietComfort 15: Our New Favorite Noise Canceling Headphones

Do you have a favorite source of music on the internet? We'll listen to your comment below: