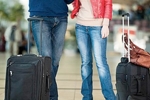 Your flight's been delayed and you're stuck at the airport. What should you do? You could go shopping at the terminal's over-priced stores. Or play more Angry Birds on your iPad. Or download yet another novel onto your Kindle.
Or, you could go looking for romance.
That last option is the premise behind MeetAtTheAirport, a new dating website dedicated to finding love — or, at least a person to flirt with — before, after or between flights.
---