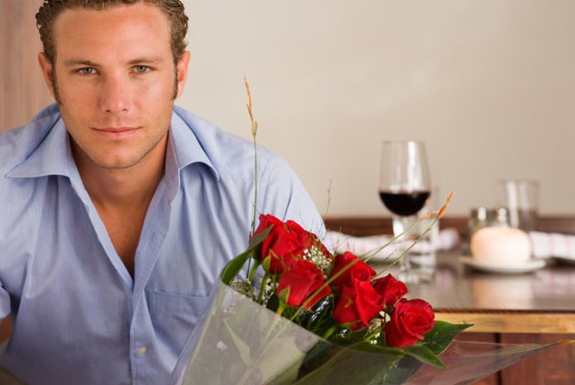 Virtually all the internet's dating websites can be fit into two categories: those with personality matching and those without.
In the latter category, Match is the most popular (and, as we argued in a previous review of dating websites, one of the best). But there are literally hundreds of other websites where you can search through profiles using whatever criteria you'd like.
On a personality matching site, you fill out an online questionnaire about yourself and the website matches you up with potential dates. In this type of dating website there are two major players: Chemistry.com and eHarmony. So what's the difference between them? And which is better for you? Spot Cool Stuff's editors take a look:
Pros & Cons of Personality-Matching Dating Sites
To start, it's worth knowing the benefits of personality dating sites. There are two: one widely acknowledged and one more the personal opinion of Spot Cool Stuff.

The first is this: A personality-matching dating website saves you time. If you live in a reasonably populated area and do search on Match.com — even a rather specific search — you'll likely get dozens (or even hundreds) of profiles to wade through. A personality-matching site will do much (though not all) of the wading for you.
Second, a personality-matching site might do a better job finding potential dates than you could. After all, if you are single then, almost by definition, you haven't found that right guy or gal yet. Which means, heretofore, you haven't picked out the right person. That might be the result of circumstance or bad luck. But it could also be because you aren't so good at picking the right people from the wrong. So maybe a personality-matching site could do a better job. At the very least, it will encourage you to interact with people who you might not give a chance to otherwise.

[ ALSO ON SCS: A Review of the Best Niche Dating Websites ]

The Biggest Difference . . .
. . . between eHarmony and Chemistry is this: eHarmony has an extensive questionnaire that results in every user being ranked on 29 different personality aspects. Chemistry.com has a more informal questionnaire that tests for 4 different personality aspects.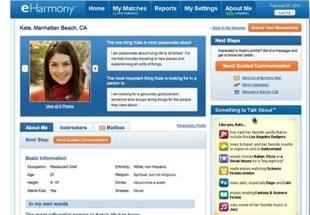 As a result, eHarmony has the more rigorous matching system. Although eHarmony has more members (approximately 20 million to Chemistry's 12 million), you'll get few matches sent your way on eHarmony. Those matches are better suited for you — at least in theory and, we think, in practice too — than they would be under a less strict matching system like the one Chemistry.com sues. On Chemistry, you'll get more matches but they'll be less targeted.
Which of those is better for you depends partly on your personal preferences and partly on where you live. eHarmony is a better fit for people who want to spend less time on the site and/or who live in urban areas with lots of singles. Chemistry generally works better for those with the time to sort through more profiles and/or who live in more rural areas.
Note also that eHarmony's more rigorous matching system extends to who they let on their site in the first place. eHarmony claims that around 20% of the applicants to their website are rejected. The number one reason: the potential user is married. In addition, eHarmony's users have to be over 21 (Chemistry minimum age is 18) and been divorced fewer than four times. eHarmony has even been known to reject applicants if their questionnaire suggests they are deeply depressed!
Your view on all that, again, will depend on your personal preferences. Some people like that extra screening. Others find it overly judgmental.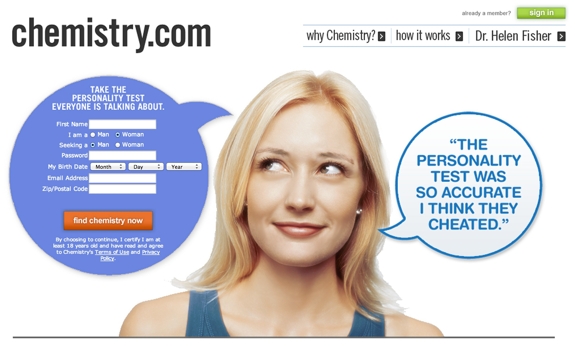 Other Points of Chemistry – eHarmony Comparison
Best website user experience: Chemistry.com
This might be a matter of personal taste, but to us the Chemistry website has a cleaner design and a more intuitive navigation than eHarmony. That said, neither site is difficult to use.
Best for people who don't like emailing: eHarmony
If you aren't a creative writer, don't like email or simply aren't a fan of written correspondence with people you don't know, you'll find eHarmony much more pleasant to use. The site has a "guided communications process" that takes much of the guess work out of what to write about. Click to learn more about how eHarmony works.

Best website for meeting men: Chemistry.com
Like almost every dating website out there, eHarmony's users screw female  — an estimated 67% are women. Chemistry is one of the rare dating sites that has a roughly 50/50 gender ratio.
Best for meeting women: eHarmony
For the same reason Chemistry.com is better for meeting men (see above), eHarmony's large percentage of female users give men on the site an advantage.
Best for gays and lesbians: Chemistry.com
No contest here. Chemistry has excellent sections specifically for gay and lesbian dating. eHarmony is exclusively for straights.
Best for single parents: eHarmony
Chemistry and eHarmony have similar demographics in terms of age, income and educational background. But eHarmony has a lot more singles with children  — 42% to Chemistry.com's 33%.
Best for those seeking marriage: eHarmony
After interviewing many users of both websites (and spending considerable time on each ourselves) our strong sense is that eHarmony users tend to be more marriage-focused. Singles on Chemistry are generally seeking long-term relationships too† but, as a group, seem a little less eager to tie the knot.
Best for the price: Chemistry.com
Both dating websites don't charge for setting up a profile but both cost money for full functionality. (Note: free dating websites offer a very low quality experience — click here for more on that). The exact price for each sites depends on how long you sign up for (see the Chemistry & eHarmony websites for the details) but, on average, Chemistry costs $10 less per month. In addition, Chemistry runs better sales.
At the time of writing, Chemistry.com was offering a great promotion: three months for the price of one. eHarmony's current best deal is a 20% reduction on a 6-month membership (if you click through that link and use promo code EHCODE).

Our Verdict
Clearly, which personality-matching dating website is best for you depends on your circumstances. If you've read through this whole post hopefully one of them — Chemistry.com or eHarmony — stood out as a better fit for you.
If neither did, our suggestion is: sign up for both. It will take a bit more time, but both offer enough free functionality to get a feel for them.
Whichever site you choose, we wish you romance in your future.
updated: 14 Feb 2014

GO TO CHEMISTRY.COM / eHARMONY |
† Those looking for casual let's-maybe-just-be-friends dates tend to be on a site like HowAboutWe. Those looking for a quick hook-up are drawn to one of these fling-oriented dating websites.
Related posts on Spot Cool Stuff:
All-Inclusive Romance: A Comparison of the Sandals Resorts in Jamaica
Romantic Travel Idea: Chocolate Spas
HowAboutWe: Search Date Ideas, Not Profiles