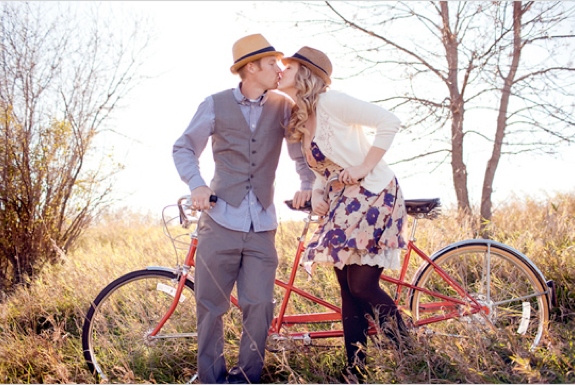 On most dating websites — including virtually all the most popular ones like Match.com or eHarmony — users find who they might want to go out with and then try to arrange a date with that person. But there's one dating website that flips that notion around: HowAboutWe.
As in, how about we . . . try riding a tandem bicycle together. How about we . . . run around the city "one upping" each other on random acts of kindness. How about we . . . make a mixed tape from both of our music . . . totally gorge on chocolates all day while visiting different candy stores . . . go to my house and watch me play Halo for 17 consecutive hours . . . bike along the lakefront and have a progressive picnic at each beach . . . try skydiving . . . take in an opera . . . go avenge my father's death . . . buy the craziest hats we can find and walk around town ignoring the stares . . . take a drive with no destination in mind . . . go to trivia night at a local bar . . . go blueberry picking. How about we . . . attend the Air Guitar Championships.




Those are all examples of real dates proposed by real people on HowAboutWe. Chances are, some of those ideas turn you off. Hopefully at least one appeals to you and makes you curious about the person who proposed it. And that's exactly the point.
Instead of scrolling through pics and profiles (as on Match.com), and instead of getting matched by a personality test (a la Chemistry), HowAboutWe is centered around getting out in the world, partaking in cool activities and having fun.
Spot Cool Stuff sees great merit in this approach. Think of it this way: If you are the type of person who would enjoy going for a tandem bicycle ride or attending the Air Guitar Championships†, for example, then it stands to reason that you might be compatible with another single person who enjoys those things too. And if you chose to go tandem bike riding or air guitar watching with said other single person, then at worst you'd end up doing something fun. At best, you'd do something fun and find romance.
Not that you are going on these dates blind. To be active on HowAboutWe, a user has to upload at least one photo. Most users have also filled out one or more profile questions. The profiles format on HowAboutWe strikes us as being not-so-interesting — we prefer those on other dating websites — but they at least give you an introductory idea of who you'll be riding on that proverbial tandem bicycle with.
Because HowAboutWe places an emphasis on doing activities, it tends to draw people who are more about going on fun, casual dates than they are about finding serious relationships or getting hitched‡. Also, while HowAboutWe is growing quickly, its user base isn't nearly as large as those on the better known dating websites.
But there must be something to the HowAboutWe approach. Match recently launched a new feature called DateSpark where users can propose fun activities they'd like to do on a date. Sound familiar?
published: 2 Oct 2012

† Or riding a tandem bicycle TO the Air Guitar Championships. And, yes, the latter is a real thing.
‡ People who are marriage-oriented tend to be on eHarmony in greater percentages than they are on any other dating website.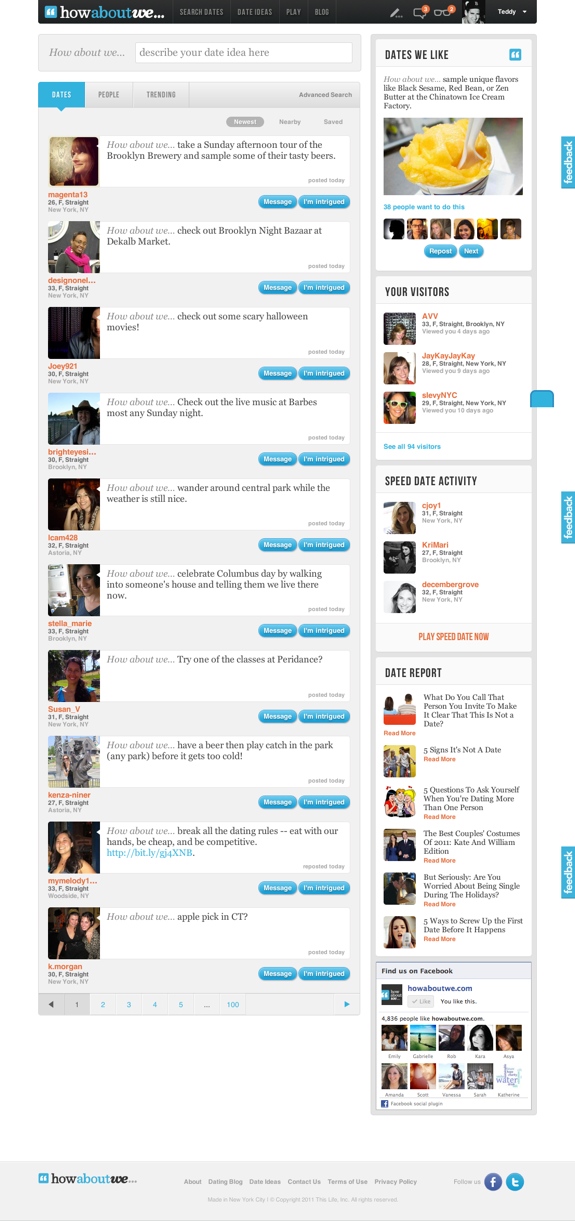 GO TO THE SITE | JOIN US ON TWITTER / FACEBOOK / PINTREST
Related posts:
The Best Niche Dating Websites
Creative Romance: The Best Chocolate Spas
Honeymoon Resort Reviews