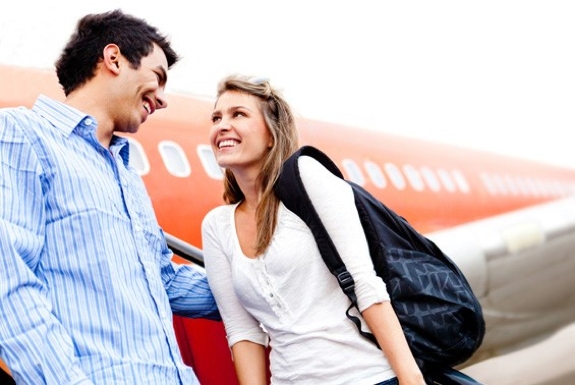 Your flight's been delayed and you're stuck at the airport. What should you do? You could go shopping at the terminal's over-priced stores. Or play more Angry Birds on your iPad. Or download yet another novel onto your Kindle.
Or, you could go looking for romance.
That last option is the premise behind MeetAtTheAirport, a new dating website dedicated to finding love — or, at least a person to flirt with — before, after or between flights.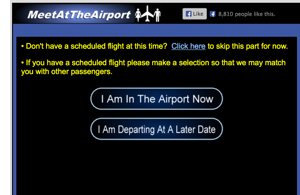 There are two basic ways to use the site:
Spontaneously. If you are already at an airport with extra time, log onto the MeetAtTheAirport website, update your status and see if there's a potential romantic interest in the same situation.
Pre-planned. Have an itinerary for future air travel? Enter your dates, times and airports on the MeetAtTheAirport website and see if anyone is interested in a rendezvous. Who knows, maybe someone will even reschedule their own flights to make a tryst happen.
Now, if you are imagining MeetAtTheAirport to be some wonderful cross between Match.com (one of our picks for the best dating website) and Tripit (one of our all-time favorite travel apps) then you'd be correct in theory but way off in terms of execution. Unfortunately, MeetAtTheAirport's website design and user interface is rather dreadful. Particularly frustrating are the endless drop-down menus, some of which list seemingly every airport in existence (whether they have commercial flights leaving from them or not).
[ MORE FROM SCS: eHarmony vs Chemistry.com ]
Still, MeetAtTheAirport seems to have a relatively active user base of over 200,000 members. At any given time there are around 2,000 members logged in. Most of those users are in the United States but there are also significant percentages from the UK, Germany and Mexico as well as some from the major European and Asian countries.
Besides, there's really no other airport-centric dating website like MeetAtTheAirport. And you can't beat the price: free!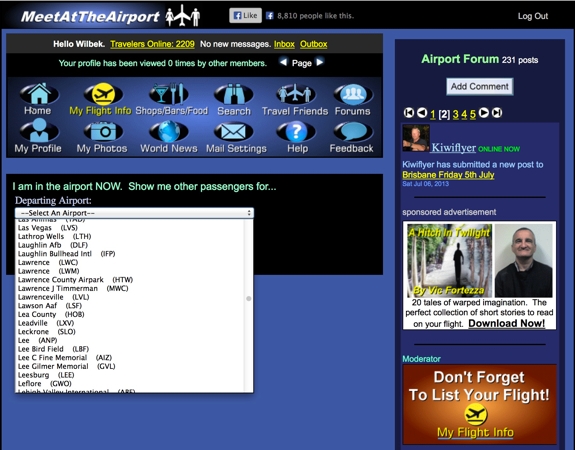 The Best Airports for Dating
So what are the best airports for finding romance? you might be asking yourself. MeetAtTheAirport, it happens, did some research on this question for airports in the United States. Through a combination of a survey of their users and looking at subjective and objective factors, they came up with this list as their top five:
Orlando (MCO)
Miami (MIA)
Newark (EWR)
Boston (BOS)
Philadelphia (PHL)
It immediately struck us as suspicious that MeetTheAirport was based in Florida and, coincidentally, the top two airports on their list were both in their home state. So Spot Cool Stuff decided to take our own crack at it. First, we looked at 10 major metro areas with the largest number of single people . . .
New York – 1.9 million single adults
Los Angeles – 1.1 million
Chicago – 921,000
San Francisco – 731,000
Philadelphia – 592,000
Washington, DC – 586,000
Boston – 509,000
Miami – 508,000
Dallas/Ft. Worth – 464,000
Atlanta – 458,000
. . . and then the 10 major metro areas with the largest percentage of single people . . .
Washington DC – 44% of metro-area residents are single
Atlanta – 39%
Boston – 37%
San Francisco – 35%
Philadelphia – 34%
Los Angeles – 33%
Chicago – 33%
New York – 32%
San Diego – 31%
Minneapolis-St. Paul – 30%
. . . and then cross-referenced that with the major airports with the greatest percentage of flight delays, under the theory that fliers rarely stick around the airport after their flights land, and often don't have much spare time before their flights depart, but are especially open to an encounter with a single stranger while waiting out an arduous delay:
New York-Newark (EWR) – 70% of flights depart on time
San Francisco (SFO) – 74%
New York-LaGuardia (LGA) – 77%
Washington-Dulles (IAD) – 79%
Chicago-O'Hare (ORD) – 80%
Houston (IAH) – 80%
Washington-National (DCA) – 80%
New York-Kennedy (JFK) – 80%
Miami (MIA) – 81%
Fort Lauderdale (FLL) – 81%
You might notice that a few cities come up on all three lists. Based on that, here is Spot Cool Stuff's list of the best dating airports in the United States:
San Francisco (SFO)
Newark (EWR)
Washington-Dulles (IAD)
New York-Laguardia (LGA)
Chicago-O'Hare (ORD)
Of course, there are other ways you could approach the question. To that end, we're currently working on a post reviewing the best airport bars in the world. Look for that in our Twitter feed, on our Facebook page or check in regularly with our travel blog.
published: 8 July 2013


More from Spot Cool Stuff:
Review of the 5 Best Wheeled Carry-On Bags
The Munich Airport Beer Garden
The World's Coolest Airlines for Travel
Pirates, Vegetarians, Wealthy Singles and the Best Niche Dating Websites
Elsewhere on the web: