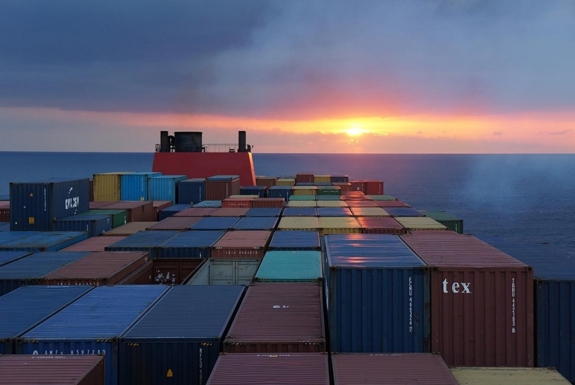 Conjure an image of what's it is like to go on a cruise. Are you picturing buffet dinners? On-deck spinning classes? Retirees playing shuffleboard? Many cruises really are like that. But if you're looking for a different sort of cruise scene consider traveling by cargo ship.
Cargo ship travel is the un-cruise. There's nothing fabricated about it. Every day thousands of freighters ply the high seas. Some of them have extra state rooms and accept passengers to tag along for the ride. It is as "real" as travel gets.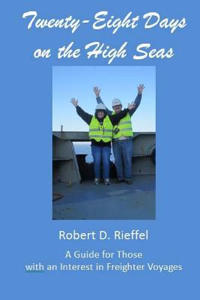 Of course, cargo ship cruising is not for everyone. Cargo ships don't (usually) have swimming pools, evening entertainment, rock climbing walls or organized mixers on Lido decks. Go on a cargo ship cruise and there might be as many as 12 or 15 other paying passengers like yourself. Or, you may be the only one. And while cargo ships generally offer comfortable sleeping quarters they're unlikely to be luxurious.
How do I arrange passage on one of these freighters? you might be wondering. A handful of cargo shipping companies accept passenger bookings directly. However, we recommend starting your itinerary search with a travel agent that specializes in cargo cruises. That will give you a sense of costs, potential itineraries and selection of amenities. There are also a few books and cargo cruise clubs that can help.
[ ALSO ON SCS: The Best Websites For Booking a Caribbean Vacation ]
Here's our list of suggested websites for conducting your cargo cruise search:

Travel Agencies Specializing in Cargo Cruises
Freighter Expeditions is our single favorite cargo cruise booking website. It's based in Australia but check them out even if you don't plan to travel Down Under. Freighter Expeditions has a bevy of interesting routes, including freighter voyages between Germany and Morocco, Marseilles and Miami and a 126 day around-the-world super cruise!
Cargo Ship Voyages has a useful cargo cruise search engine but only includes itineraries to or from the UK.
Freighter Travel NZ has a small, semi-informative Kiwi-centric website. For booking and specific cruise information, you'll need to give them a call.
Maritime Cruises looks like it might have potential, but their website was under maintenance at the time of writing.
Strand has a badly-designed, information-poor website. The fact that we're mentioning them at all says something about the dearth of good cargo cruise travel agents.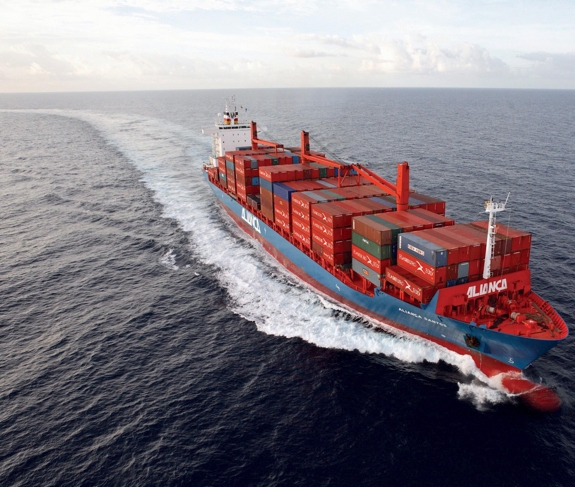 Shipping Companies That Accept Passengers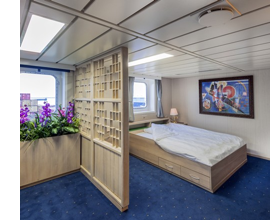 CMA CGM is this world's third largest shipping company. Happily, they accept passengers on many of their sailings, including on the CMA CGM Marco Polo — an absolutely enormous vessel larger than the largest cruise ship. A separate website about the Marco Polo has photos, videos, the current GPS coordinates of the ship and info on how you can hop aboard. (The pic to the right is of one of the Marco Polo guest quarters.)
Hamburg SED is another large shipping company that's very passenger friendly. Most of their itineraries start and/or end at a German port.
Aranui offers only one cargo cruise itinerary — a two-week tour of French Polynesia and the Marquesas Islands. It's aboard a ship that freights supplies between the islands, but one that's been custom outfitted for cruising guests. The accommodations and itinerary are thus more tourist-friendly than your typical cargo cruise. Recommended!
The RMS St Helena is on one of the last working Royal Mail ships. It also offers one of the best opportunities for cargo cruising. That's because it offers more passenger amenities than your typical freighter (including free wifi!). And because it plies a wonderfully scenic and exotic route between Cape Town and Ascension Island. We've never sailed with them but love their informative website.


Cargo Cruise Clubs & Associations
Maris Cruise & Freighter Club charges $59 for a lifetime membership. That gets you a subscription to a monthly newsletter, "insider" information on cargo cruises and special discounts.
TravLtips is an association for cargo cruising companies based in the USA. They have an e-newsletter that's available to individuals with a paid subscription.
published: 13 April 2014





JOIN US ON TWITTER / FACEBOOK / PINTREST / GOOGLE+ / LINKEDIN / TUMBLR
More cruise posts on Spot Cool Stuff:
Tips For Finding Cool, Yet Inexpensive, Cruises
Crystal Cruises Offer Standby Fares
Aboard North Korea's First Cruise Ship