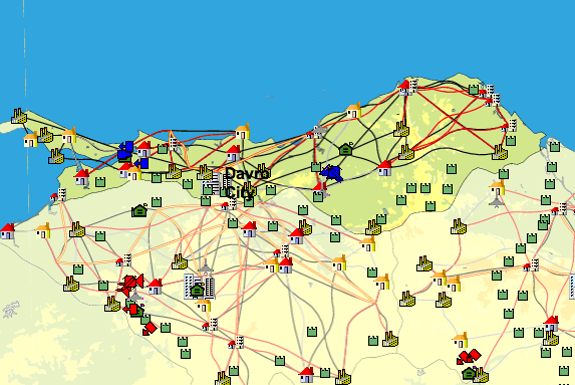 If you've ever looked at your national leader and said "I could do a better job than that person" here's your chance to prove it. At Sim Country you take charge of a virtual nation in either a mostly peaceful world (where war is still possible) or a warring world (where the right set of alliances and strong defense could still keep your people at peace).
The interface of Sim Country takes some getting use to — it runs a little slowly and isn't very intuitive. It can also take some time to sift through the huge amount of statistical data available to you about your country, data you need to make the right decisions. But then I suppose this sort of minutia of numbers is something real presidents face too. (Tip: When you start the game use the "tip" buttons available on each page liberally).
Despite these shortcomings, it took us only a few days to get hooked on Sim Country. We love the pacing of it (one day in real life equals three months in game time) and, especially, the ability to interact with other real players to form trade pacts, create military alliances and push beneficial resolutions through the security council. If you join the game look for us in the "Golden Rainbow" world where we are the President of The Popular Republic of Freedonia. We hope you will come in peace. But we are developing nuclear weapons in case you don't.

Spot Cool Stuff is looking for other good online roll playing games. Do you know of any? Let us know in a comment below: