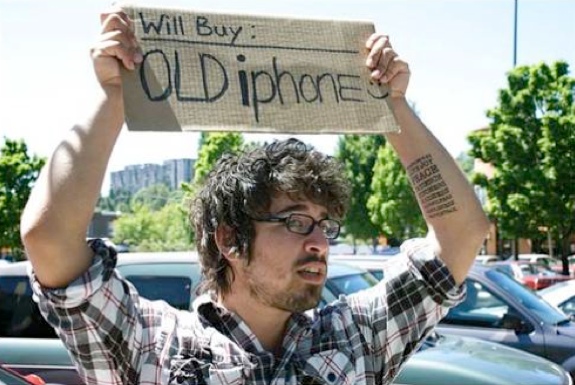 Spot Cool Stuff just got a new Apple iPhone. Which begs the questions: What should we do with our old one?
Turns out, that old iPhone is worth some money. There are dozens of websites through which you can sell old electronics. And not only iPhones, but MP3 players, calculators, gaming consoles, computers—both desk and laptop—external disk drives, cameras and camera lenses, printers, eBook readers, DVD players and more.
Once bought, your item will either be refurbished or recycled. So it's a win-win. You get money for something you won't use anymore anyway. And the planet gets one less toxic piece of a landfill.
After researching all the used electronics buying services we could find, Spot Cool Stuff found four that we can especially recommend. Here they are, in order of preference:
Note: The prices listed below are for a working 32GB Apple iPhone 3GS with a few small-ish scratches on the front and many more in back. Prices seem to fluctuate quite a bit. All the websites reviewed here will pay for your shipping costs but are based in the United States. In fact, for all but one you must be in the US to sell them your gadgets.





Gazelle
Gazelle didn't offer us the absolute highest price for our used iPhone. Yet we rank them highest amongst the used electronics buyers we contacted. What gives?
Turns out, once you start looking at the fine print, Gazelle offers three advantages to the competitors: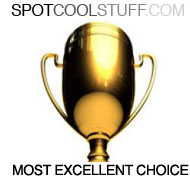 1) Price certainty. Every other site we looked at made a distinction between a used iPhone that was in "good" shape versus one that was "fair." The difference seemed very subjective and nitpicky yet the price difference could be substantial. Gazelle was the only site to offer one price for basically all iPhones—broken or "flawless" ones being the only exception.
2) Shipping ease. Gazelle, like most other used electronics buyers, offers free shipping. But Gazelle is the only to give an option of FedEx (which is faster) or the U.S. postal service (which might be more convenient). Gazelle is also the only site we found that will ship free packaging in which to send your gadget (though, obviously, that takes longer than using your own box).
3) Customer service. Gazelle's is superlative. The company is excellent about sending updates throughout the sales process.
Add to that a 5% bonus if you choose to accept your payment in the form of an Amazon gift card, and a huge database of electronics Gazelle will purchase, and you have a Spot Cool Stuff favorite cool website.
Price offered: $141 (or $148.05 if paid via an Amazon.com gift card)
Pay methods: PayPal, check, Amazon gift card (with 5% bonus)
Pays within: 1 week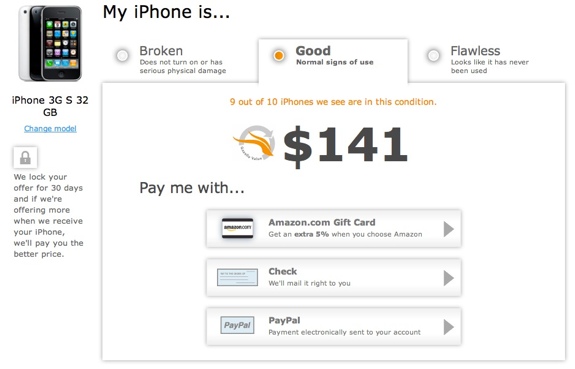 eBay InstantSale
On eBay you can sell old electronics to the general public through an auction (in the same way you can sell on old vase or baseball cards and the like). Or you can sell via eBay's InstantSale site, on which eBay connects you with the third party willing to pay the most for whatever old gadget you are trying to sell.
When shopping around our old 32GB iPhone 3GS, it was through InstantSale that we got the highest offer: $149. But there was a catch. To get that price our iPhone has to be in good condition, good being described as "minor scratches without scuffs and/or dents." If our iPhone is deemed to only be in fair condition the offered price plummets to $72. And the only difference between a "good" and "fair" condition iPhone is whether those scratches were "minor" or not. That seems very difficult to judge in advance. How do you know what nicks qualify as a dent?
To use InstantSale you must have both an eBay ID and a PayPal account.
Price offered for "good" condition / for "fair" condition: $149.25 / $72
Pay methods: PayPal
Pays within: 5 business days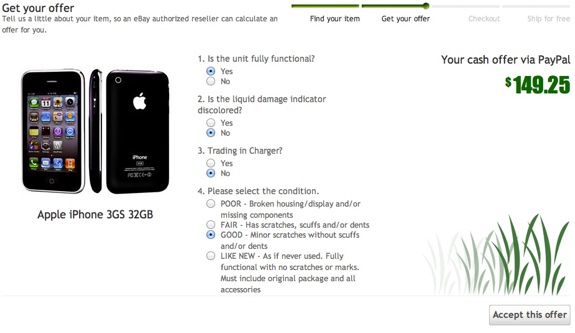 NextWorth
Our offer from NextWorth almost matched that from InstantSale (above). But once again there's a fine line between what counts as "good" condition and what counts as "fair." NextWorth's "fair" condition offer, while much higher than InstantSale's, was lower than Gazelle's.
NextWorth also took longer to pay than any other website: 10 business days (eg. 2 weeks). But there's a way around that. The website will let you trade your gadget in person—and get paid instantly—at a participating Target retail store.
Price offered for "good" condition / for "fair" condition: $145 / $125
Pay methods: PayPal account, Target gift card
Pays within: 10 business days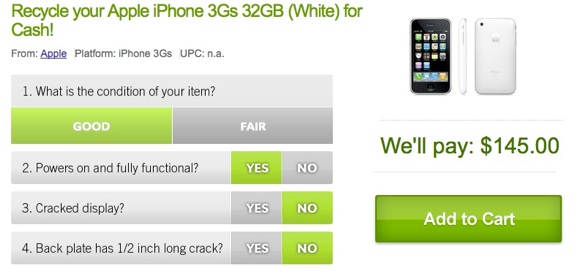 YouRenew
YouRenew had one of the lowest offers for our old iPhone. But the site has an advantage over the other three included in this review: It is the only one to accept items from outside of the United States. (Though customers have to pay for international shipping themselves). We also like YouRenew's strong environmental commitment. For every product you sell through YouRenew you can choose to give towards domestic renewable energy production or towards the cost of planting a new tree.
Though Spot Cool Stuff isn't in a position to independently variety this, YouRenew also seems to have the strongest eco-friendly bent of the websites in this review.
Price offered for "good" condition / for "fair" condition: $115 / $107
Pay methods: PayPal, check
Pays within: "a few days"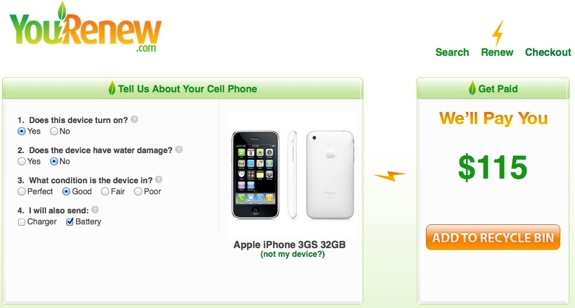 published: 21 Oct 2011



Have you sold a used gadget through a website? Share your experience in comment, below: