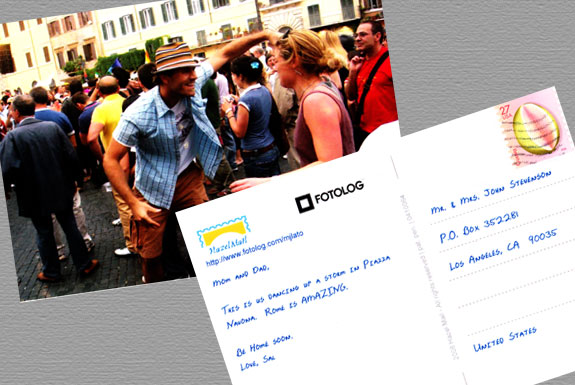 Time was that a person on a vacation would send friends and family these things called "postcards." A "postal service" would physically carry said card from the sender's location to the addressee's provided that the postcard had affixed upon it a proof of delivery service payment (or "stamp"). One side of the postcard would have a short message, the other side a photo of people the sender has never met or a vista the sender has probably not seen.
Today, people travel with digital cameras and email photos of their trip to their friends and family. This method is a lot faster. But something has been lost in not getting that physical postcard.
Into the mix comes Hazelmail.
As if to underline Hazelmail's mix of old and new, the site was founded by an upstart internet entrepreneur who named it after his mother. The way it works is like this:
Using Hazelmail's extremely intuitive interface, you upload a photo . . .

. . . then do some basic formatting of the image . . .

. . . then write your message and fill out the address (you can type in a normal computer font like Arial but we like the choice of the four faux handwriting fonts) . . .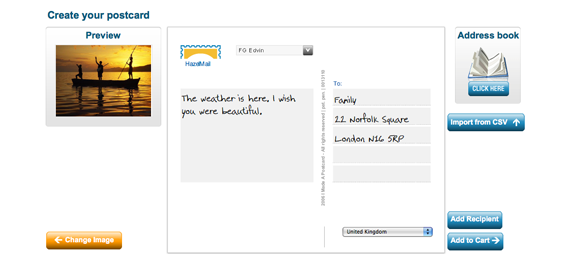 . . . and then pay $1.50. And that's it! Hazelmail prints your personally designed postcard and sends it out for you.
Hazelmail is useful for more than vacation correspondence too. Instead of going to the store to buy a birthday card to send to your best friend, stay at home and send that friend a Hazelmail card printed with a photo of the two of you. The same cards can be sent to multiple addresses making Hazelmail ideal for mass mailings like thank you notes, birth announcements and holiday cards.
Coolest of all, Hazelmail has arrangements with printers around the world. So your card is printed close to its destination—better for both the environment and for the speed of delivery. If you are in, say, Fiji and are sending a card to your home in Europe your card will be printed in, and mailed from, Europe. Which means that a Hazelmail card, unlike a card sent through the Fijian postal service, is certain to arrive at your home before you do.
GO TO THE SITE | FOLLOW US ON TWITTER |
Related posts:
Useful Websites While Traveling
A Review of the Olympus Evolt E420 < -- great travel camera
Best Camera Backpacks
Canon 40D vs 50D
Best Hosting Company For a WordPress Blog
5 Amazing Photoblogs