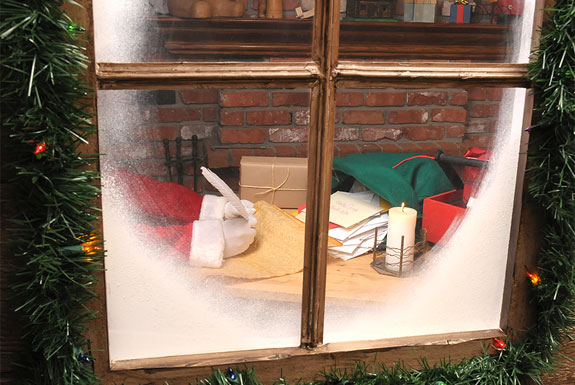 The three stages of believing in Santa Claus:
1) Complete acceptance.
2) A logical understanding that Santa isn't real (probably) but still wanting to go along with the myth, partly because for the magic of it but mostly for the presents.
3) The sad truth.
For kids who are in stage #1 and — especially — stage #2, getting a letter or a phone call from Santa Claus can make a wonderful, indelible memory. And through the magic of the internet that memory is possible. Because, while Stanta-Claus-the-man may not exist Santa-Claus-the-website does.




A Letter From Santa
Santa-Claus letters come in four levels: The Classic. The Magic Snow, which includes "snow dust" (we suggest having a Dust Buster handy) and, inexplicably, a set of temporary Santa tattoos. The Special, which comes with a stuffed snowman. And the Deluxe, which comes with everything the Snow and Special letters do. Being more traditionalist when it comes to the holidays, Spot Cool Stuff is partial to the Classic.
Whatever letter you choose, what makes each so effictive is that they are highly personalized. Santa-Claus letters make references to information you provide like your child's favorite sports, hobbies, friends and pet's names, recent events in their lives and so on. You also have the option of having Santa write whatever PS you'd like. Siblings who get a letter will each feel Santa's personal attention.
The letters also look convincing. They come on stationary like Santa might have, in a realistic handwriting font and with a Mailed From The North Pole postmark.
A Phone Call From Santa
For a more auditory experience, have Santa call your child!
Pre-recorded calls from Santa will take your child's age and generder into account. But what's really cool are the live phone calls. A jolly-sounding Saint Nick will phone your special young one at the time of your choosing. As with the letters, each call is highly personalised.
The Santa-Claus website opperates out of both North Pole, United States and North Pole, England (this particular Santa being rather Anglo-American oriented). Santa letters can be sent anywhere but he is currently only able to call numbers (both land line and cell) in Canada, Ireland, the United States and United Kingdom.

Of course, letters and phone calls from Santa are not only for the young. Parents of Spot Cool Stuff, you've been warned.
updated: 20 Dec 2013

GO TO THE SITE | JOIN US ON TWITTER / FACEBOOK
Related posts & pages:
Finding Child-Friendly YouTube Videos
The Cool Website Where Kids Design Their Own Stuffed Animals
Family Travel Ideas (That Are Fun For Adults Too)
3 Cool, High Design Cereal Bowls For Kids
Electronics Shopping Christmas Bargains
The World's Best Toy Store
The Bizarre Hotel Where Every Day Is Christmas