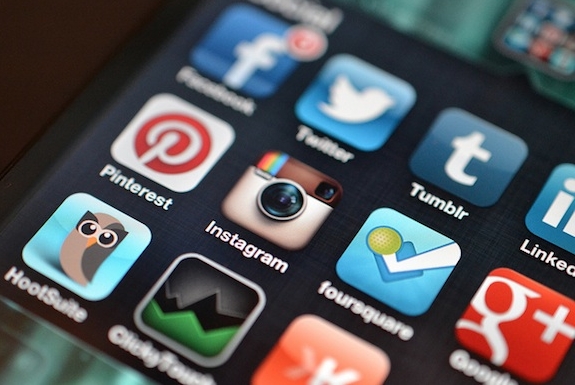 Business is booming at social media marketing agencies. Company budgets for social media marketing are expected to grow by an average of 16% in 2014! And that has marketers clamoring to get ahead of this year's social media trends so they can figure out how to best spend that budget.
The infographic below gathers together some thoughts on these trends from experts. Among the predictions: mobile will continue to play an increasingly important role; selling through social channels will become the norm. We agree with that. Though, in addition to presenting the infographic's predictions, Spot Cool Stuff would like to add six of our own:
1) Niche social media networks will grow — fast. Facebook is losing users in part because the site tries to be all things to all people. Iin our opinion, it doesn't do any one thing well. LinkedIn, by comparison, is gaining users because it is designed to excel at a specific purpose — business networking. Social media networks that are more niched will continue to see strong growth. The number and specificity of these niches will grow too. To wit, even vampire wannabes have their own social media network.
2) Google+ might grow to become the most important social media network in 2014, as many experts are predicting. Already Google+ is getting more more visits than Facebook (1.2 billion per month versus 809 million). Major brands — Dell, The Huffington Post and Experian among them — have announced major expansions of their Google+ presence for 2014. Still, Spot Cool Stuff remains a contrarian. We don't see a great passion among our audience for Google+. But we do see the site as having fallen into the "Facebook trap" of lacking a specific purpose. (See our prediction #1.)
3) Google Glass may become the device that's most used to access social media some time in the future, but not in 2014. Or 2015. That said, wearable technology will continue making strides this year.
[ ALSO ON SCS: 3 Up-And-Coming Social Media Networks ]
4) Gorilla marketing will get tougher. Much tougher. The topmost creative campaigns will still find a way to break through but, increasingly, companies will find themselves paying to promote their social media outreach.
5) Images and videos will continue to grow in importance and popularity. Spot Cool Stuff has noticed this trend first hand on our Facebook page and in our Twitter account — updates with visual media draws a lot more interest than text-only. Among the major beneficiaries of this trend will be micro-video sites like Vine.
6) Social media marketing will become more location-based. As social networks are increasing accessed by devices equipped with GPS — and not only smartphones by car navigation devices as well — marketers will spend more time and money reaching potential customers close to their locations.
With that, check out the infographic below . . .
published: 24 April 2014

JOIN US ON TWITTER / FACEBOOK / PINTREST / GOOGLE+ / LINKEDIN / TUMBLR




Elsewhere on the web: