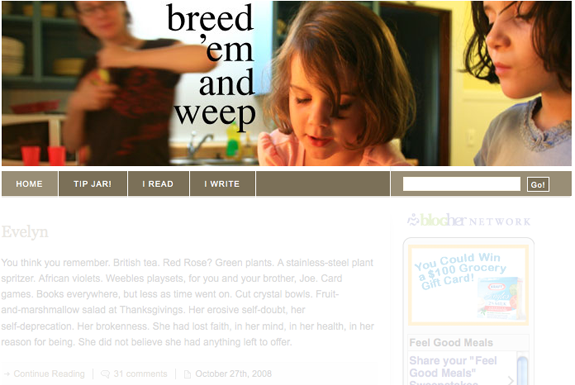 How should we categorize Breed 'Em And Weep? This blog from Berkshires writer Jenn Mattern is ostensibly about the trials and tribulations of motherhood but, really, it is about so much more.
We could see putting Jenn's blog under our Quirky category because how else would you describe, say, an imagined couple's therapy session between Obama and McCain? It could go under Communication because Jenn has written the world's wisest words on how to talk to a sad person. Humorous could work too, because virtually every post of Jenn's has a comic touch, as could Community, because Breed 'Em And Weep has a loyal group of readers who form friendships through her site.
In the end, Dear Reader, we hope you don't mind that we chose to list this post under all of those potential categories. Because what Jenn does in her blog is explore the stuff of the whole of life, the stuff that's true for each of us regardless of our gender and parental status. Love, depression, parents & children, loss, victory, outrage, confusion, hope, telephone sex chats—all of it makes up Breed 'Em And Weep.
There are lots of bloggers out there whom we like. In Jenn we've found one we love.