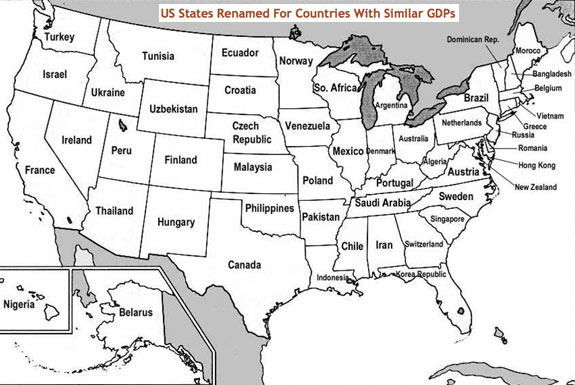 We absolutely love maps. We have since we were six years old when we traced out a giant map of the world and then painstakingly demarcated the territories that would be controlled by each of our stuffed animals.
In the hope that some of our readers enjoy maps as much as we do we present one of our favorite blogs: Strange Maps.




The cartography you'll find at Strange Maps is mostly not of the sort you'd find in an atlas. Sure, the site has some historical maps like the one depicting Spain in 1850. But it also shows maps that could not be rendered on a piece of paper, like the Australia-shaped puddle and the cheese map of Canada. Anyone hungry for a marzipan map of Europe?
Some of the maps are humorous, like the hilariously wrong map from a Swiss Air magazine. We laughed at the cartographic depictions of the word as seen by Sarah Palin and the people of Paris. (Needless to say, the worldview of Parisians don't overlap much with Pailin's).
As huge fans of the TV series Lost we took special delight in the map of the island showing the Dharma stations and the locations of the TV series' key events; the map was pieced together from various clues given on the show.
Our favorite maps, perhaps, are the ones that make some sort of sociological statement. Like the one showing the usage of various generic soft drink terms in the United States or depicting the North-South divide based on where ice tea is sweetened.
Unfortunately, the maps aren't categorized. The only way to navigate the site is to go through the archives of the posts chronologically. Though that's hardly a chore if you like maps as much as we do.
GO TO THE SITE | TRAVEL GEAR DEALS | FOLLOW US ON TWITTER |
Related posts:
Spot Cool Stuff Travel Blog
8 Weird and Wacky Items Sold on Amazon – really!
Send Your Photos As Postcards
On the Spot GPS Tracker and Satellite Messenger
Cake Wrecks – Hilariously terrible cakes
Best Hosts for a WordPress Blog




Click on the map to go to the related post on Strange Maps: