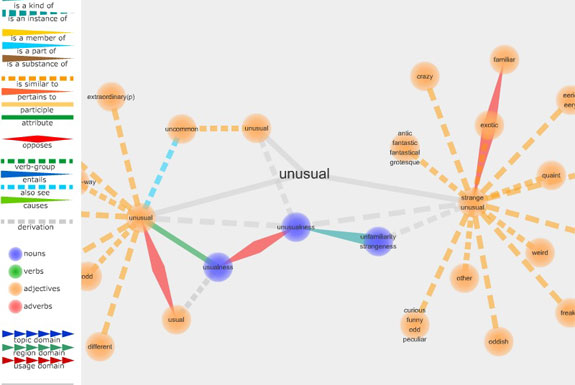 Sure your standard bookshelf dictionary is useful for looking up the definitions of words that are, you know, "acceptable." But what about cutting edge slang words? Or words no longer in use? Or words you can use to insult a Klingon? For that you need an out-of-the-ordinary dictionary. Here are eight of our online favorites:




Urban Dictionary

On this popular and community-driven site users share their thoughts on jargon, idioms and slang. Urban Dictionary is at the cutting edge of language use—words and phrases often appear here years before they make it to Merriam and/or Webster. Perusing the offbeat definitions can also be a whole lot of fun. Some example words:
Parade Maker — A driver and/or car that goes consistently under the speed limit, causing a backup of 20+ cars, creating frustration and your ability to be where you want to be on time.
Presponse — To respond to a question before it is finished, often confusing the asker.
Textagram — Two or more words that are spelt out using the same series of keys in a text message.
Standard words and definitions are displayed here in a non-standard way—visually. Type a term into VisuWords and you'll get a schematic, resembling a science textbook's rendering of a molecule, that shows the interrelation between your chosen term's various definitions and synonyms. If you are hunting for a specific word and can't quite figure out what it is VisuWords is an excellent resource.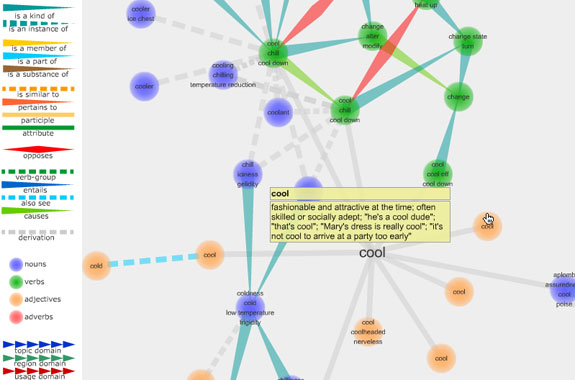 Refers to itself as: "An exhausting work of reference to un-certain English words, their origin, meaning, legitimate and illegitimate use." What does that mean? Check out the site to find out. It's a sort of mix between a dictionary parody and list of one-liners. An Epitaph is "a statement that usually lies above about the one who lies beneath," for example. A Sandwich? That's "an unsuccessful attempt to make both ends meat." Bada-bing
GO TO THE SITE


Dictionary of Custom License Plate Terms
Have you seen one of those vanity plates on the car in front of you and become IR8 because you couldn't figure out what it was saying? This dictionary will translate. So GETGNSN (get going soon) to this site.
There once was a man from Nantucket,
who . . .
. . . well, we aren't sure what happened to him. But you can use the OEDILF to find out. That's the Omnificent English Dictionary In Limerick Form. The OEDILF might or might not tell you what a particular word means. But it will show you how that word can be used in a five line, usually raunchy, poem.

Dictionary of Australian Slang
Don't be a whacka when you head Down Under. It's good oil to know some of the local slang. This corker online dictionary will help you out.
GO TO THE SITE | SPOT COOL STUFF: AUSTRALIA


Grandiloquent Dictionary
Here you'll find definitions to obscure and rare—and very real—English words. Some examples:
Feazings (n) the frayed and unraveled ends of a rope
Rudera (adj) growing in a garbage dump
Couther (v) to comfort by giving refreshments and warmth




Klingon Dictionary

If people wonder whether you have more time on your hands than you know what to do with then visiting this site and memorizing a few dozen words of the language of the warrior race in Star Trek will remove all doubt.
The online Klingon Dictionary will also help you translate Klingon into English. So if some one with too much time in their hands comes up to you and says Hab SoSlI' Quch! you can figure out that he's just gravely insulted you by saying that your mother has a smooth forehead. (Click here to hear the correct, and oddly Swedish-sounding, pronunciation of that insult courtesy of the Klingon Language Institute).
GO TO THE SITE | BUY THE BOOK | iPHONE APP | STAR TREK STORE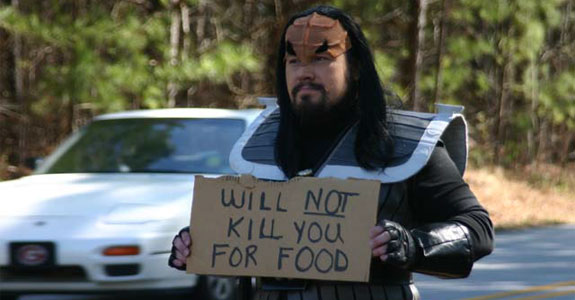 Related posts & pages:
Unusual Hotels
8 Totally Bizarre Items Sold on Amazon – really!
Hidden Doors & Secret Passageways
Best Traffic Exchange Websites
eHarmony vs Match.com
The Clever Webcomics of xkcd