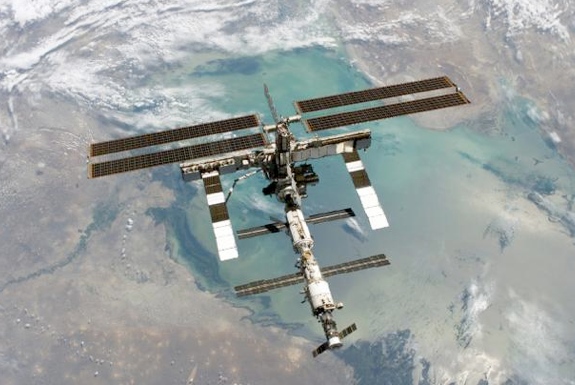 The International Space Station operates about 230 miles above the surface our planet. That's high enough for its crew to float weightless. But, surprisingly to many, that's low enough for the station to be seen with the naked eye by an earthling at see level. The key is knowing where — and when — to look.
To that end, NASA has created a new website: Spot The Station.
The website lets space enthusiasts input their hometown and cell phone number. Once signed up, anytime conditions allow for you to get a good view of the space station, NASA will send you a text!
Those conditions are somewhat specific. First, obviously, the International Space Station has to be traveling above your part of the planet. Then, the light has to be right. That usually happens after dusk and before dawn, although the ISS can on occasion be seen during the day. And then you have to know where to look; it takes just two and five minutes for the station to cross the sky (from the point of view of a human standing on the ground).
Dutifully, NASA's text will give you the when, where and for long long of your space station viewing opportunity. A text might look something like this:
SpotTheStation! Time: Thu Nov 29 7:45 PM, Visible: 4 min, Max Height: 66 degrees, Appears: SW, Disappears NE.
If you get such a text and head out at the appointed time, what you are looking for is a slow-moving white dot. It will be one of the brightest dots in your view, about the same brightness as Venus (and sometimes much brighter). If you have a tripod and a good camera with long exposure setting you may be able to capture the space stations path in a photo like the one below.
About 95% of the inhabited land on Earth gets a view of the International Space Station at one time or another. Apologies to our loyal readers in Borrow, Alaska — you are part of the 5%.
published: 29 Nov 2012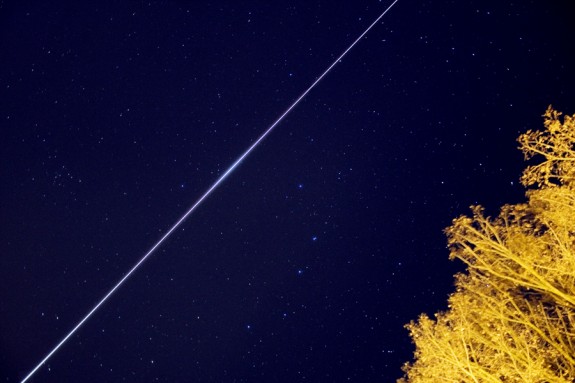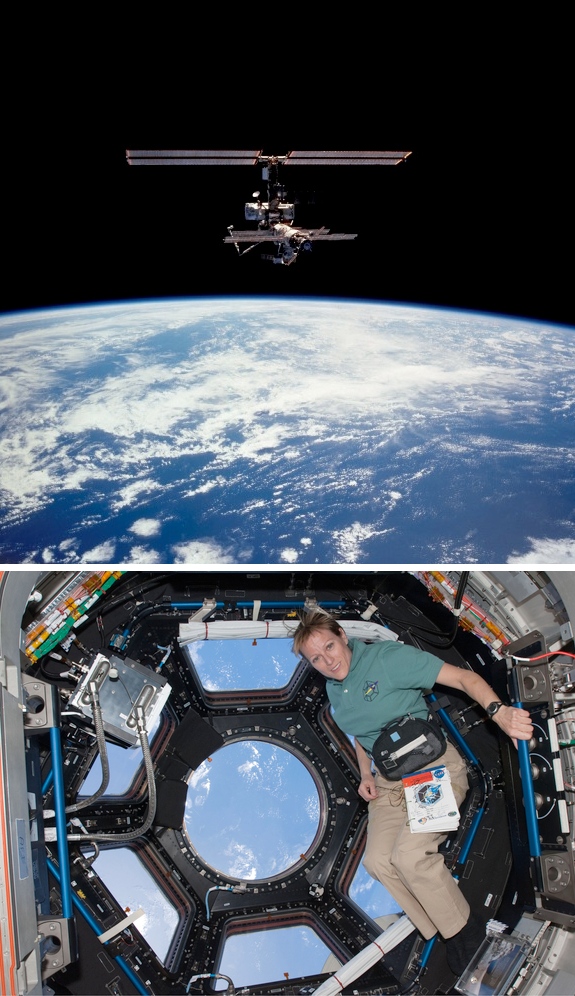 GO TO THE SITE | JOIN US ON TWITTER / FACEBOOK / PINTREST / GOOGLE+
Related posts on Spot Cool Stuff:
Travel to 7 Amazing Circular Geographic Oddities
Cool YouTube: Father Launches Son's Toy Train Into Space
Visiting The World's Largest Radio Telescope in Arecibo, Puerto Rico
Elsewhere on the web: