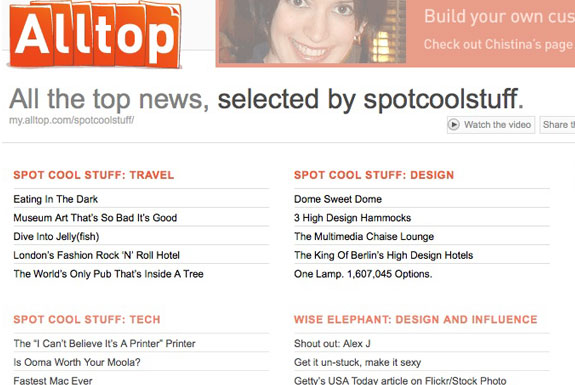 As the popularity of RSS feeds have grown so have the number of sites aggregating RSS feeds. Spot Cool Stuff's aggregator of choice is Alltop, a self-described online magazine rack of popular topics.
What makes Alltop so useful is that the site has some editorial standards for the feeds it accepts. So instead of a million RSS feeds from everyone blogging about what they had for breakfast this morning Alltop has a few hundred feeds from blogs you may actually, you know, care about.
Alltop is also the best designed RSS aggregator. It has enough topics to be useful, not so many that you can't find what you are looking for. The site "remembers" topics you recently visited, making it easy for you to return. Put your mouse over an article title on Alltop and you'll see an instant preview.
The problem is that Alltop has become almost too popular. Some topics now have so many RSS feeds that the choice is overwhelming. And the best feeds are not always at the top of Alltop's topic pages. (We base that conclusion on the fact that Spot Cool Stuff's feeds are not at the top of Alltop's topic pages).
As of today there's a solution to that problem: MyAlltop. Now you can create an account with Alltop, select whichever feeds you want from however many topics you want and the latest five headlines from all of your chosen feeds will appear on a single page. It's a very cool way to quickly find and navigate to new content of interest to you.
On Alltop you'll find feeds from Spot Cool Stuff in their Travel, Gadgets and Design topics.
date: 17 Mar 2009
GO TO THE SITE | SPOT COOL STUFF'S MYALLTOP PAGE | FOLLOW US ON TWITTER
Related posts:
Your Personal Online Wedding Planner
Cool Sites For Finding Blog Jobs
Match.com vs eHarmony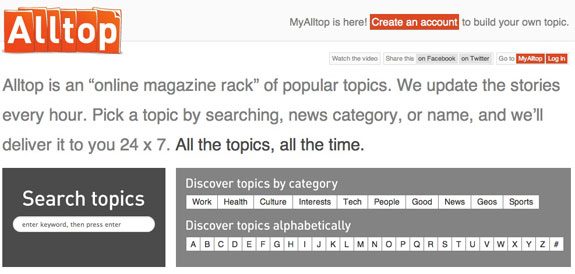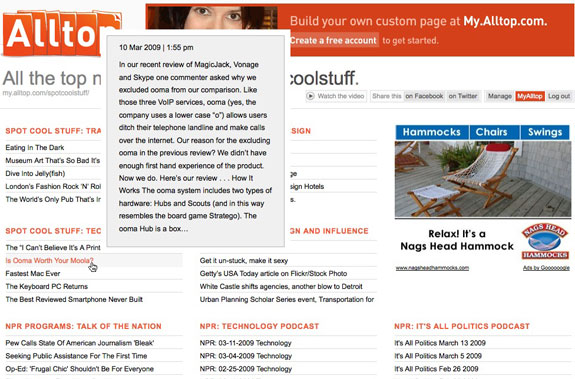 GO TO THE SITE | SPOT COOL STUFF'S MYALLTOP PAGE | FOLLOW US ON TWITTER