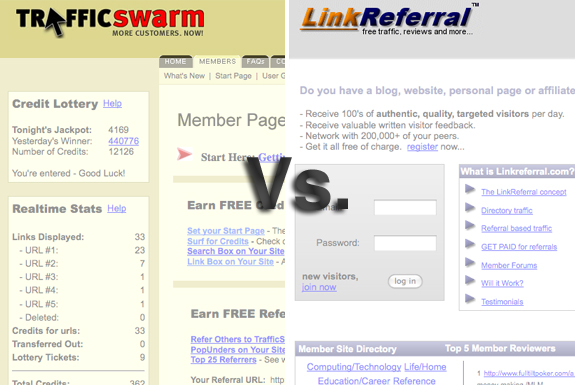 TrafficSwarm and LinkReferral are two of the best amongst the dozens of traffic exchanges websites. The basic premise of all of them is the same: You sign up for a free account, register your blog or website link, and in exchange for clicking on the links of other members' they will click on yours. It is there, though, that the similarities end. Which service is better, TrafficSwarm or Link Referral? Read on . . .




Giving traffic
To get people on a traffic exchange service to click to your website you have click to other members' sites. Either that or pay money.
TrafficSwarm works through a series of credits—every visit you make to a member site earns you a random number of credits, usually between 1 and 5 but sometimes 0 or 50 or more. The randomness of it gives TrafficSwarm a bit of a casino feel. Indeed, you can use your credits there to buy entries in a daily credit lottery. Clicks to TrafficSwarm members are made within a frame in a separate window (the "Start Page") where there's a 20 second timer. You have you remain on the member site you visit for the full 20 seconds, and then click "next" to get your credits. Credits can also be purchased; the cost per thousand credits ranges from $20 (for 2,000 credits) to $9 (for 50,000).
On LinkReferral your website is listed in a particular subject category and subcategory (eg. shopping and clothing). Your activity on the LinkReferal website will earn you a higher listing on the category and subcategory pages. As people click on your site you'll be moved down in the listings. Being active on the LinkReferal site includes writing reviews of members' websites, adding a member to your favorites list and participating in the LinkReferral forums as well as clicking on member's websites. Unlike TrafficSwarm, there's no timer that requires you to stay on the sites you link to for a specific length of time; you can open your click into a new tab or window if you like. If all that sounds like too much work you can buy yourself a spot amongst the top 10 listings for $35/month.

Getting traffic
TrafficSwarm is a little like a free AdWords program. You set up a campaign, write a short description of your link, and decide how many credits per day to devote to a particular campaign. (You can have multiple campaigns in one account). Every time your link is displayed it costs you one credit. Links are displayed on the Start Page eight at a time. So, all else being equal, you can figure that a single click will cost you eight credits.
On LinkReferral, there's no theoretical limit to how much traffic you can get. Users of the site click to a particular category and subcategory and if they like the look of the link they'll click to your site.




Which site will get you the most traffic?
If you are active enough to get among the top 30 sites in any category, then LinkReferral will get you a fair bit more traffic than TrafficSwarm. Exactly how much time is required to get into the top 30 depends on what category your site is in. If you have a website touting some sort of money making scheme then you'll have to return to the LinkReferral website a few times a week each time maxing out your activity allotment (30 clicks, 5 website reviews, 1 new favorite and 1 forum posting per day). If you have a website in a less popular niche (health products or a personal blog, for example) then you can stay high on the list with relatively minimal effort.
For a typical website, if you spend a hour per week on one of these sites then you can expect about 10 to 40 visits in that time through TrafficSwarm compared to 30 to 200 visits through LinkReferral.

Which site will get you the highest quality traffic?
If you have an online store and hope to use either LinkReferral or TrafficSwarm to directly drive your online sales then the answer is: neither. Users of both services are visiting your site so that more people will visit theirs—the majority of them aren't looking to buy anything.
If you have a site that deals with website development or online advertising issues you'll get high quality traffic through both services. The one thing the all the users of both services have in common: They are all taking time to get more traffic to their own sites.
If your goal is to simply get people to read your content then you'll get traffic that will be of average quality through both services.
And the winner is . . .
. . . LinkReferral. Though which service you should choose does depend somewhat on your specific circumstances.
If your website is an online store or touts a money making opportunity then it will be too tough for you to consistently keep a high listing on LinkReferral using their free service. In this case you'd be better off with TrafficSwarm. You'll also appreciate TrafficSwarm if you have four or more links you want to promote, since every link you want to list on LinkReferral requires opening a new account.
Except for those cases, though, the clear choice is LinkReferral—it will very likely bring you more traffic for less effort compared to TrafficSwarm.
LinkReferral is also the better deal (by a large margin!) if you are thinking of buying traffic regardless of which sort of website you are looking to promote. The $35/month for top place in LinkReferral is one of the web's best deals for getting quality traffic to your site. The $50 fee for a lifetime premium status with LinkReferral is also a good deal.
If you aren't going to pay for special treatment or extra credits keep in mind that both TrafficSwarm and LinkReferral will require you to be active on their sites, at least occasionally, for you to see any benefit from them. The good news is: If you have an upstart website either, or both, of these services will help you get traffic.
GO TO THE SITES: TrafficSwarm | LinkReferral
Related posts:
Acer vs Asus – The $350 netbook showdown
5 Cool Photoblogs
Best WordPress Hosts

Thoughts? Experience with either of these services? Our comment section awaits you: