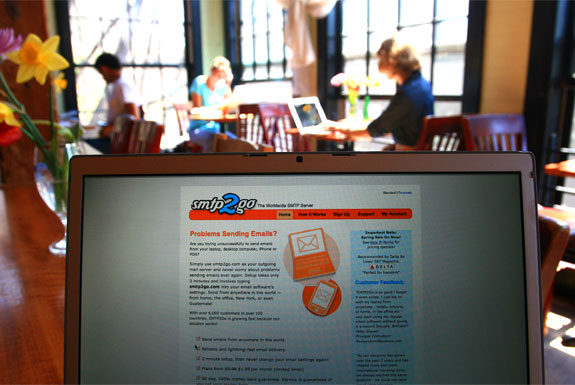 Spot Cool Stuff is writing these words from one of our favorite coffee shops. We love this place's drink selections, its vibe, its river views—and its free wifi. But there's one problem: We can't send emails from here. Or, at least we couldn't until recently.
If you've used your laptop at a restaurant, library, hotel, airport or other place with a public internet connection chances are you've run into similar outgoing email issues. The problem is that some internet connections block particular outgoing ports and/or connections to SMTP servers. This isn't an issue using website-based mail services like Gmail or Hotmail. It can be when using an email program like Outlook, Eudora or Mac Mail.
Happily, there's an easy, efficient solution to these email troubles: SMTP2GO.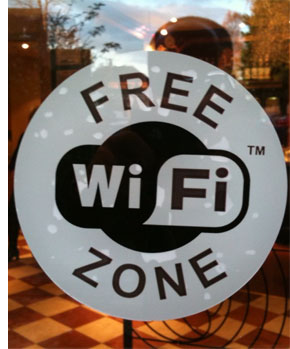 Prior to stumbling upon SMTP2GO, Spot Cool Stuff tried a half dozen other email work arounds including setting up our own local email server. Some of our attempted solutions were complicated, some were expensive, and none worked 100% of the time.
The beauty of SMTP2GO is its simplicity. Sign up for an SMTP2GO account (currently on sale for a mere US$1.99 per month), put the SMTP info you are provided into your mail program (SMTP2GO has easy-to-follow instructions on how to do it) and register the email addresses you want to send mail out from.
That's it. You use the exact same mail program and exact same email addresses you currently do. When you are at home or someplace else that doesn't block your SMTP ports you can choose to use your old SMTP server (the Mac Mail program will automatically adjust to this) or continue using SMTP2GO's.
We've tested out SMTP2GO from dozens of public internet sites that previously blocked our outgoing email and were able to send from every one.
So, friends of Spot Cool Stuff, go ahead and send us your email. With SMTP2GO we'll be able to write you back.
LEARN MORE & SIGN UP | FOLLOW US ON TWITTER |
Related posts:
Reviews of the Best Travel Cameras
Airwear: Airport Codes Made Fashionable
8 Highly Unusual Items You Can Buy on Amazon.com – really!
Useful Websites While Traveling
The Cool Way To Send Digital Photos As Postcards
FAQ Direct from the SMTP2GO Website


SMTP2Go is best explained by the following commonly asked questions and answers:
What is SMTP2Go?
SMTP is the protocol used to send email over the Internet. When you send an email it gets sent to your SMTP server, which then forwards it to the recipient of your email. Obviously in order to send email you need an SMTP server that works! SMTP2Go is an SMTP server that works all the time, wherever you are in the world.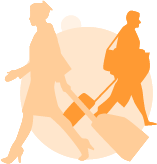 Why would I need SMTP2Go?
You might have experienced difficulties sending emails from your laptop or PDA from more than one location (e.g. at home, at work, staying in a hotel, visiting another city or country). This is because the SMTP server assigned to you by your ISP only actually works when you're connected to the Internet through that ISP. As soon as you connect to the Internet through a different network you lose your ability to send emails! This is a security measure used by ISPs to prevent people sending spam through their servers, but it's also an annoying problem for laptop and PDA users who want to be able to use their email on the go.
Why can't I just use Hotmail?
Many mobile users switch backwards and forwards between their regular email program and a web-based email program like Hotmail. Obviously it's possible to use a web-based program anywhere in the world, but these systems have their own drawbacks. Not only do you have to send mail from a highly unprofessional email address (steve8564@hotmail.com, for instance), but it's also hard to keep track of your emails when you're hopping between your different email accounts. Who needs the drama? Wouldn't it be better to just use the same account, and the same email program, wherever you are? That's what we think.
Can't I just change my SMTP server to the SMTP server of my current network?
You could, if you could find it. Often these can be extremely difficult to find, or simply not available at all. You also need to do this for each and every different location. Every time you want to send an email… you first need to find the SMTP server. Tedious? Very! Using SMTP2Go means changing your settings once, and then never having to change them again. SMTP2Go works anywhere, regardless of location or service provider.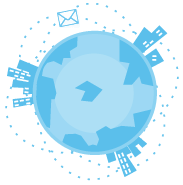 What if I have more than one email address I want to send from? Can I use my work email address and my home email address?
Yes, we've thought of that! SMTP2Go lets you send emails from up to 5 different email addresses, from the same account. This means that you can continue to send work emails from your work email address, and personal emails from your home email address (or any other email addresses) all in the one account. Businesses with more than 5 email addresses – see our corporate accounts.
Do I have to use an @smtp2go.com email address?
No – in fact we don't even offer them. You keep using the same email address, or addresses, you always use!
What about attachments? Can I send them?
Absolutely! You can send any attachments, up to 20MB in size per email.
What happens if I try to send more emails than my plan's daily limit?
If this happens, the email will stay in your Outbox on your own computer until the next day when you attempt to send again. We'll also email you if you ever reach your limit, with the option of upgrading.
Is SMTP2Go easy to set up?
Setting up SMTP2Go is no more difficult than entering your email settings for your regular ISP. You simply type smtp2go.com into your email program's settings. Just to make it easier, though, we've got setup instructions for most mail programs (both Windows and Mac)




LEARN MORE & SIGN UP | FOLLOW US ON TWITTER