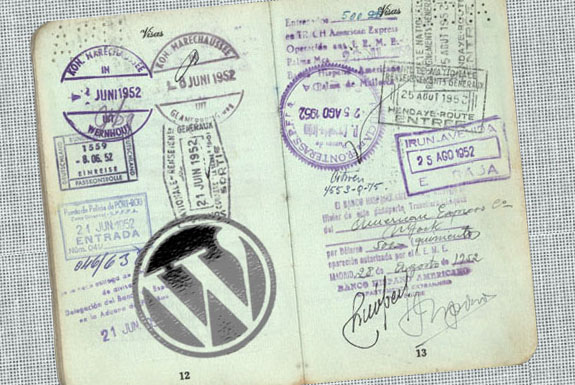 Our travel blog, like all of Spot Cool Stuff, runs on WordPress. Over the months we've downloaded and activated many dozens of WordPress plugins. And then deactivating almost all of them. Most plugins are too buggy, too time consuming, and/or too unimportant to bother with.
There are, however, five plugins that we think any WordPress travel blogger should seriously consider using. Each works with WP version 2.7 and 2.8.




Automatically Convert Currencies
What a great plugin this is for customizing your travel blog for your international readers! In your posts you write prices in your home currency and LocalCurrency will detect each of your visitor's IP address and automatically convert that price to their currency.
Let's say you are in the United States writing about a cool hotel and mention that it costs $100 per night. Your blog readers in London will see the price listed as $100 (GBP£69.59) per night, those in Beijing will see $100 (CNY元684) per night, those in Seoul will see $100 (KRW₩135,744) per night and so on. How cool is that?!

Once activated LocalCurrency is super easy to use—a button will automatically wrap < —-> tags around the figure you highlight. Unfortunately, the plugin assumes you are always listing prices in the same currency (ie. it will always convert from U.S. dollars, or yen, or whatever currency you select). That limits how much we can use it on the Spot Cool Stuff travel blog where we cover global destinations and list prices in the local currency. Hopefully the next version will be able to convert from multiple currencies.
See the plugin at work in one of our many posts about unusual accommodations: Berlin's Billboard Hotel.

Organize Your Categories
Travel blogs tend to have posts in many more categories and sub-categories than other kinds of blogs. Take our post on Four High Design, High Value, South Beach Miami Hotels for example. That post is in our Miami category, which is a subset of the Florida category, which is a subset of United States, itself a subset of Destinations. That post is also in our High Design Hotels category, a subset of Hostels & Lodging. It's also listed under Affordable Luxury, a subset of the Superlatives category.
Altogether we have 121 categories and counting. The only thing giving any semblance of order to the chaos is the fantastic Folding Categories plugin.
Activate this plugin and you can put a widget in your sidebar that will show only your top level categories on the homepage. As your readers click down into your blog's content the relevant sub-categories will unfold. It is all highly customizable. You set the order the categories appear and can even control the font attributes.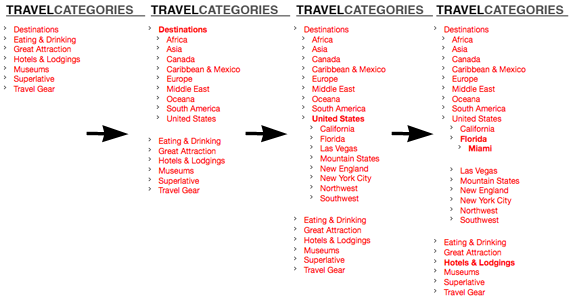 Add Google Maps
We're surprised at how many travel blogs don't incorporate maps into their content. Especially when there are so many great plugins that make adding Google maps so easy.
We've tried most, if not all, of the mapping plugins and found Geo Mashup the best. The plugin puts a mapping tool is on the same page you use to write your post, so there's no need to go to the Google Maps website. Input the address you'd like to map, type [geo_mashup_map] in your post where you'd like your map to appear and that's it.
In fact, you don't necessarily even need to know the street address you want to map. For our post about an ice bar in the Mandalay Bay Resort all we had to do is type "Mandalay Bay, Las Vegas" into the Geo Mashup location field and our map appeared.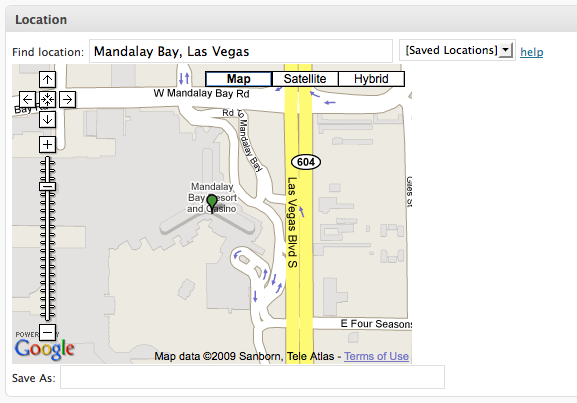 Optimize Your Photos
Almost every great travel blog has great photos. Yet few travel blogs optimize their photos so that they appear high in the Google Image Search results, probably because adding all those title and alt tags is time intensive. At least, it is without the SEO Friendly Images plugin. This is the sort of plugin you install and forget. The plugin does all the work. And you'll see dozens—potentially hundreds—more page views as a result.
While we're on the subject of photos, Flickr Gallery is our favorite plugin for incorporating Flickr photos onto a blog and Slimbox is the best plugin for displaying photos with a lightbox effect.

Create A Calendar Of Your Future Travels
If your blog is travelogue, telling the story of an ongoing trip, then a good calendar of your future travel plans is key. And Event Calandar 3 is the best of the calendar creating plugins.
Event Calendar is easy to use. Events are added in exactly the same way you'd write any post—simply list a post in the calendar category (or whatever category name you'd like), assign it a date (or time, if applicable) and that's it. Your calendar can be incorporated into a post or page or placed on your sidebar. You can also link blog posts to specific calendar events.



Related Pages:
The 4 Best Hosting Companies For A WordPress Blog
The Best Traffic Exchange Sites: TrafficSwarm vs LinkReferral
Travel Website Reviews
Travel Links