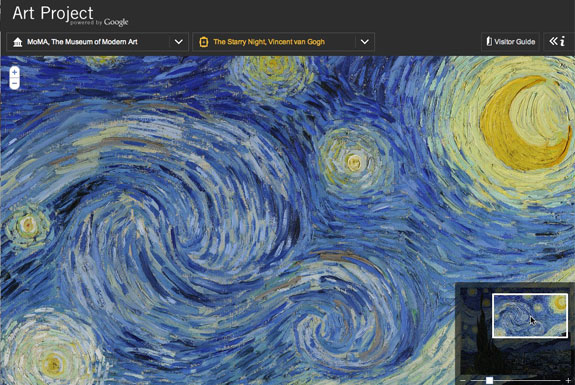 The Van Gogh Museum in Amsterdam. London's Tate and National Gallery. New York City's MoMA and Frick Collection. The State Tretyakov Gallery in Moscow.
To experience those art museums there is there is not—and Spot Cool Stuff believes will never be—a better alternative to traveling to each and visiting in person. But Google may have developed the second best way of experiencing the world's greatest art museums: by touring them on your computer via the Google Art Project website.
Google Art Project is a byproduct of the company's very cool 20 Percent Time initiative, which allows Google employees to spend one day a week pursuing side projects of personal interest to them. In that 20 percent time some one had the idea of bringing the same technology that allows for Google Map's StreetView and other virtual tour technologies to the world's art museums.
While several notable art museums are not part of the project—the Vatican Museum, for instance—17 major institutions are included. For each you are have two ways of creating your own artistic tour: by viewing the artwork or exploring the museum.




View Artwork
The most straightforward way of viewing world class art through the Google Art Project is simply to select the specific works you wish to see. For each the information slider reveals a sidebar with viewing notes and the artist's information. An artwork piece might also have a video or other media with more information. We wish there were some sort of comments section for people to share their thoughts and criticisms of each artwork, but what can you do?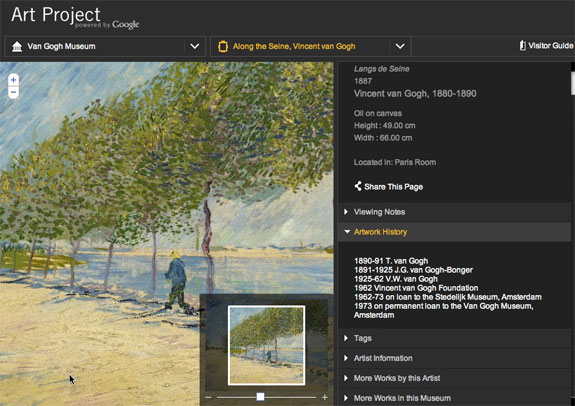 Explore the Museum
Google Map's StreetView goes indoors with the Google Art Project's "Explore the Museum" option. Indeed, you can navigate into the museum from out on the street, or vise versa. Zoom in on paintings, click on arrows to move through a room and click-and-drag to look 365 degrees around (and even, to some extent, up and down!).
As with the StreetView, navigating museum exhibits through Google Art Project is amazingly cool at first and then feels less and less cool the more you do it. It isn't totally intuitive where clicking on an arrow will send you and sometimes getting a good, straight look at a work of art can take a frustratingly long time. For the most efficient way of moving through a museum we suggest making liberal use of the museum's floor plan map.
Despite those misgivings, the internet is a far better place with the Google Art Project than with it. Click on over to give yourself an art fix. It should hold you until you can travel to an art museums in person.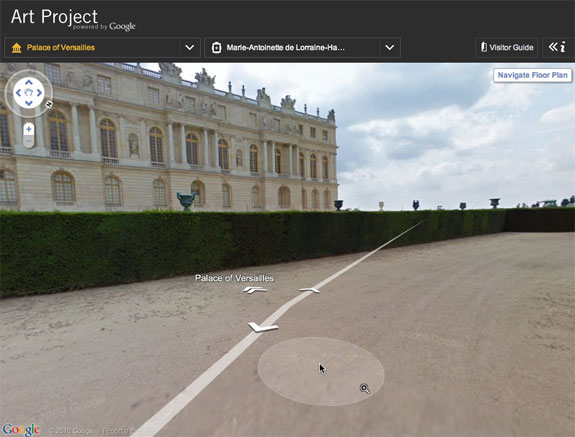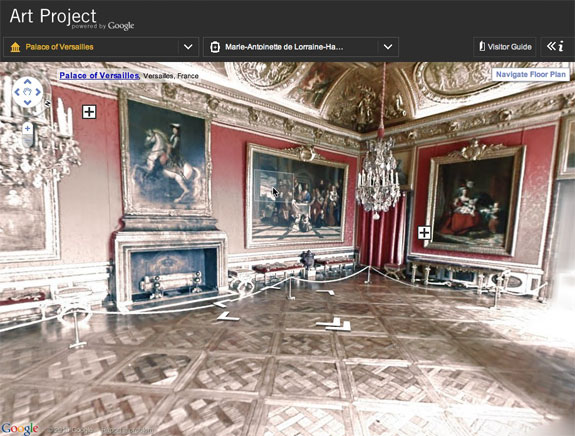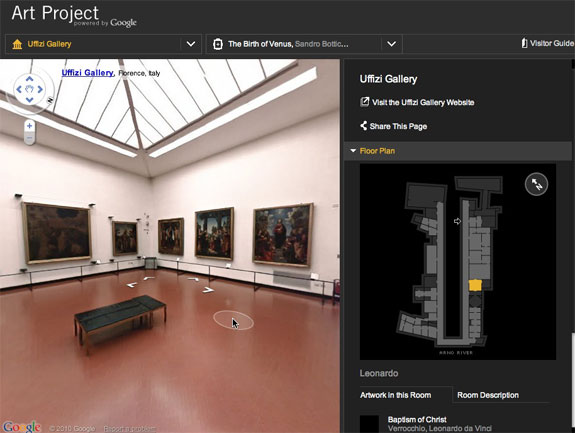 published: 1 Feb 2011

GO TO THE SITE | JOIN US ON TWITTER / FACEBOOK |
Related posts & pages:
MoBA: The Museum of Bad Art
Cool Art & Home Decor Reviews
5 Artsy Berlin Hotels
Dr. Sketchy's School of Anti-Art
A Visit to the World Erotic Art Museum