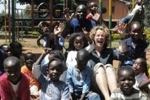 A school in Jamaica doesn't have enough pencils. A rural jobs program in Thailand needs cell phones. In South Africa, an orphanage could use more toys.
How do we know that? And what can you do about it? The answer to both those questions is the same—Stuff Your Rucksack.
SYR (as we aren't sure anyone calls it) is a cool website that matches non profits lacking basic supplies with travelers willing to bring them.
---