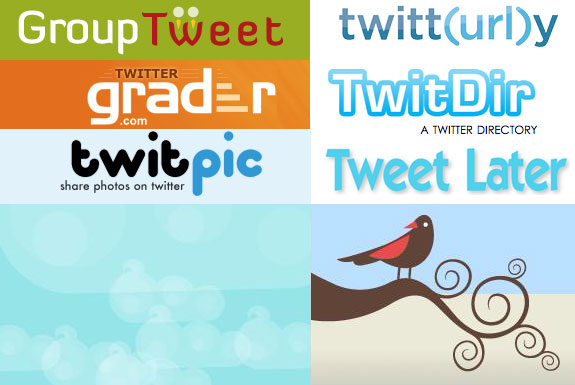 The explosion in the popularity of Twitter has brought with it an explosion in the selection of Twitter-related websites and application. Here's a rundown of a few of our favorites, with the ones we especially liked are in bold. For this list, we decided to only include websites that were free (though a few involve a download that costs money). We also excluded sites that are in the early phases of beta testing.
Is there a Twitterish site you think should be on this list? Let us know in a comment, below. And, of course, make sure you follow Spot Cool Stuff on your Twitter account . . .
Learn The Latest Twitter Trends
Tweetbeep is like a Google Alerts for Twitter. Type in your selected keywords and Tweetbeep will send you can email, either hourly or daily, with tweets that contain them. You can also be notified of tweets that link to a particular site (even if that link is through TinyURL or another URL shortening service.
Twitt(url)y lists the most popular links that others are Twittering about. Similarly, Tweetmeme tracks the most popular Twitter-based discussion threads.
Twist analyzes and presents trend comparisons and volume between keywords and tags.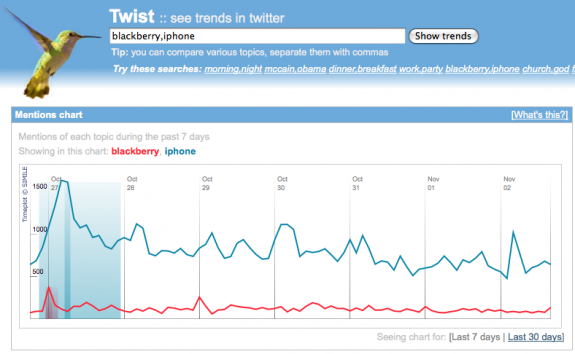 Communicate Better
GroupTweet is a website where you can create a community that privately shares tweets. Think of it as an ongoing Twitter conference call. If there's a group of people who are working on a project from various locations, GroupTweet would be a perfect way for them to share ideas and keep up-to-date about what the other project members are doing.
EasyTweets' coolest feature is its functionality that allows users with multiple Twitter accounts to manage all of them from one place. EasyTweet will also let you schedule tweets, allow you to incorporate RSS feeds into your tweets and shorten URLs to even fewer characters than you can with TinyURL.
Twitt-r is an Instant Messenger-like chat application that lets you send and receive tweets. You can also use it to send files up to 10mg. Works on both Mac and PC.
Tweet Later lets you write a tweet now and schedule a publication time. It also automates certain Twitter functions, like following anyone who follows you or automatically sending welcome messages.
Twalala adds a mute button to your Twitter, letting you tune out every person you are following except one. A complimentary service, TwitterSnooze, prevents one specific person's tweets from reaching you for a specified period of time.
Hellotxt provides one dashboard from which you can send updates to multiple networks including Facebook, LinkedIn, hi5, and, of course, Twitter.
Twitpic let's you share photos directly to Twitter from your cell phone. A similar service, SnapTweet, links Twitter to your Flickr account.



Find Friends & Followers
Twubble recommends new people who you may want to follow based on who's following the people following you (if you follow).
Twitter Grader gives your Twitter profile a letter grade based on a number of factors. While Spot Cool Stuff is not so keen to have aspects of our online life graded, we do like how Twitter Grader suggests profiles you may like to follow. Unlike Twubble, Twitter Grader suggests friends based on profile keywords.
Twellow is a directory of people on Twitter divided by category. There's a good chance your profile is already listed on Twellow, in which case you should go, claim it, and add some information that will draw followers to you.
TwitDir lets you search for people on Twitter by name or location. It seems to work better (or, at least provides different results) from the search functionality within Twitter itself.
TwitterLocal lets you see recent tweets that were generated from a particular location. Great for meeting people near you or getting a sense of what's happening in a particular location.
Incorporate Twitter Into Other Programs
OutTwit integrates Twitter with your Outlook email program. Send and receive tweets in Outlook, and separate tweets into separate folders by keyword.
TwitterBar is a supremely useful Firefox add-on that lets you post tweets from your browser's address bar, without having to go to the Twitter website. Another Firefox add-on, Shareaholic, is an easy way to share links, not only to Twitter but social bookmarking sites like Mixx, Delicious and StumbleUpon.
BuyLater, yet another Firefox add-on, will notify you by Twitter when a product you are looking for on Amazon comes into stock or if the price on it changes.
Twitter By Cell Phone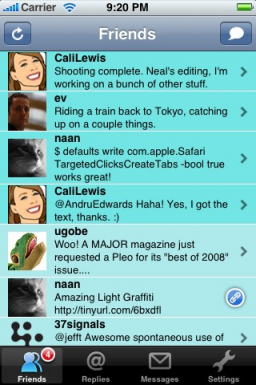 Twitterberry
is a full-featured Twitter client to read and post updates from BlackBerry phones.
Twitterfon
is our favorite service for incorporating your Twitter account with your iPhone because it is so fast and simple to use. We love it, but if you are looking for an iPhone app that lets you search for new users, for example, give
Hahlo
a try.
TreoTwit incorporates Twitter into a Treo or any cell phone running the Palm OS. For cell phones on the Microsoft Mobile OS try Twobile.
If you have a mobile phone not referenced above, try the java-based Twitteresce.
Other Cool Twitter Stuff

Plodt will follow the ebbs and flow of your life in whatever categories you choose—your mood, movie watching, drinking habits, or whatever—and then chart that out on a graph. Signing up is easy but we founding tagging each of our twits a little laborious.

TweetWheel creates a sort of visual flowchart of the relationships between the people who are following you. It isn't really useful. But it is cool-looking.
TwitSay lets you leave voice messages on Twitter.
Twistori displays in real time all the tweets that start with your choice of "I love", "I hate", "I think," "I believe," "I feel," or "I wish." The effect is like peering into the stream-of-consciousness thoughts of the whole online community.

FOLLOW SPOT COOL STUFF ON TWITTER
Related posts:
Make Free Phone Calls Via Twitter
The Best Online Dating Site For You
Meet An Inmate
The Skype iPhone App
Useful Websites While Traveling