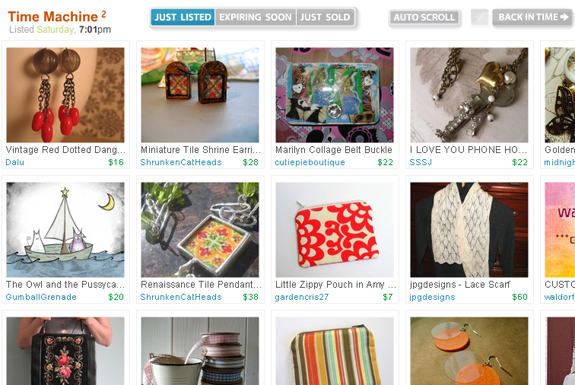 Your mother always told you that homemade gifts were the most special. But she probably didn't specify whose home they had to be made in. So if you aren't handy, or are short on time, Etsy is the perfect place to purchase that special gift. Or, if you are handy and long on time, Etsy is the perfect place to sell that special gift.
Etsy is a bit like eBay in that it connects buyers and sellers. Except Etsy only deals in handmade crafts and vintage objects. And the goods for sale here have a lot more style than most of those on eBay. And the user interface is much more friendly. Even if you don't want to buy anything it is worth checking Etsy out for an example of how good an online store can be. Search for artworks by color, through a time machine of items other Etsy shoppers have perused, find a home manufacturer by location, or request to have an item handmade especially for you!
As good as many of the crafts on Etsy are, the best part of this website might be its community spirit. Registered Etsy users can communicate through chats, forums and emails, team up on group projects, even take part in online workshops and classes. Many people have made friends—and more than a few have found a spouse—through this site. You might come to Etsy looking for that special gift but come away with a whole lot more.