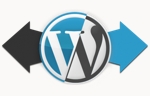 Start-up bloggers often ask us whether they should host their own WordPress blog or get a free one through wordpress.com. Below are two infographics that compare those options. But if don't have time to look them through, we'll tell you now:
Hosting your own blog is MUCH better than having WordPress do it for you.
There are really only two disadvantages to arranging for your own blog hosting. First, you'll need to find (and pay for) a good WordPress-friendly website host. Second, you'll have to do the updates yourself.
---