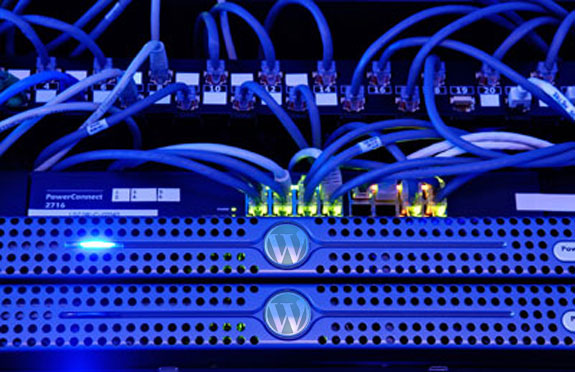 We love blogging. And we love the WordPress blogging platform. But we are very much not in love with most website hosts blogger use.
Like it or not, a website host is a necessity if you want to run a WordPress blog with your own domain name (which we strongly suggest†). It's a hyper-competitive business, website hosting is. To cut costs most hosting companies skimp on service and reduce their reliability standards. How do hosting companies get away with that? you may wonder. Because most customers make their choice of host by looking at the price and nothing else.
Do not be one of those customers.
The difference between a low and high quality host is the difference between your WordPress blog being down a few minutes per month or being down for hours (or days!). It's the difference difference being able to talk to hosting company technician on the phone or being relegated to seeking help through maddening online chat system. It's the difference between your blog loading quickly or loading slowly.
Read on for our host selection advice or skip head to our conclusions:
Shared Hosting Overview
What is a shared host?
By far, the cheapest hosting services are shared hosts. This review placing a premium on frugality, all of the WordPress blog hosting options considered were of the shared variety.
As the named implies, with a shared hosting account you are sharing a server with other users. The speed of your site will therefore depend on the popularity of the other sites using your server — something you have no control over and can not know in advance. That is an inherent downside of shared hosting, though the better hosting companies will cram fewer accounts together.
For a faster connection, you can get a virtual private server (VPS) or even a dedicated server, but these cost substantially more, especially if you want help managing your server. Plus, the reality is: If you are starting a new blog, a good shared host will be plenty sufficient for you. And you needn't spend more than $10 to get one.
For what it's worth: The website you are reading now started on a shared host. In time we switched to a VPS account and will soon be making the move to a dedicated server. If you have hopes of your blog becoming the next big thing, you'll do well to go with a host that has a VPS and/or dedicated server option. That will be it easier to upgrade in the future. If your blog is more for friends, family and a few random strangers, then expandability doesn't concern you.
In general, what makes for a good shared host?
A high quality website host will stand behind an uptime guarantee of at least 99.7% and provide responsive customer service. Many hosts are fly-by-night operations so you'll also want a host that has been in business for several years. And, of course, you want all that for a reasonable price.
Time was that sufficient bandwidth and disk space were important qualities to look for in a host. These days, many hosts offer an "unlimited" amount of each. While that sounds good, it isn't actually true—in the fine print most hosts have an "acceptable use" clause. It is actually to your advantage to have a host that does have strict limits. Remember, if you can have unlimited bandwidth then so can the other people on your shared server.
In specific, what makes for a good WordPress blog host?
In addition to what you'd want in a host no matter what kind of website you are running, there are some qualities that will help with a WordPress blog specifically:
Easy installation. On some hosts can install WordPress in a few clicks.

Experience with WordPress. On occasion things can go wrong with a WordPress blog, either through user error or some other glitch. When that happens, trust us, you'll save yourself time (and not a few headaches) if your host has extensive WordPress experience.

Regular backups. Blogs tend to change a lot more than static sites. You want to use a host that will backup your blog as often as you update it.

Multiple domains, subdomains and MySQL databases. Though your plans may be for only one site blogging can be surprisingly addictive. Look for the flexibility to expand your planned blogging activities without having to switch hosts.

A full array of up-to-date developer tools. Many of the best WordPress themes and plugins require the latest versions of PHP and MySQL. Your host should support them, along with GD libraries, Python, Ruby (RoR) and other developer tools. (You'll want your host to be able to do that even if you don't know what any of those things are.)
Every single one of the WordPress hosts reviewed below score well on those criteria. Though we've ranked them #1 through #5, the top one might not be best for you. Each has its own strength. Each would make an excellent choice for your new WordPress blog:

HostGator details

Cheapest Package: $3.96/month
Best Deal: The "baby plan," $6.36/month for unlimited domains and disk space
Special Features: The best customer service and uptime for the money
VPS / Dedicated Servers: Yes / Yes
GO TO THEIR SITE
There are three main reasons why HostGator tops our rankings for the best WordPress host. First, HostGator has one of the best uptimes in the industry. Second, if you already have a website with another host, HostGator will do all the work of migrating your old files for you (without charging you for it). Third—and perhaps most of all — their customer service is really phenomenal; with HostGator you can usually get a tech on the phone without spending an interminable time on hold. Plus, HostGator is a popular WordPress host. Have a problem with your WordPress blog? Chances are that the HostGator technical support has seen it several times before.
HostGator also offers both VPS and dedicated hosting, which means you can later upgrade your hosting without switching hosts. Add to that a 45 day money back guarantee, a long and positive track record with the Better Business Bureau and tremendous script support for virtually anything you are likely to want to do with your blog and you have Spot Cool Stuff's choice for the best WordPress host.




FatCow details

Cheapest Package: $3.15/month (sale price)
Best Deal: The cheapest package, allows for unlimited domains and 350 GB disk space
Special Features: Ad credits, rock bottom price
VPS / Dedicated Servers: No / No
GO TO THEIR SITE
The marketing department over at FatCow Hosting certainly has a sense of humor. Whether it's a good sense of humor is an open question. FatCow describes hosting as their "milk and butter," refers to their guarantee as the "HeiferCratic Oath," stores site templates in a "bullpen" and declares their whole company to be "udderly fantastic." While we appreciate the playful nature of it, all those cow puns made us initially skeptical of the quality of the product. Initially. Though Spot Cool Stuff has not ourselves hosted with FatCow, we've spoken to several webmasters who have; every one of whom — to a person — raves about the company. They are happy with the company's uptime and satisfied (though not always completely glowing) about their customer service.
The best part: New FatCow customers get $175 in free advertizing when they sign up. They also get a step-by-step guide to installing WordPress. And the price tag? Only $3.15 per month! That's not a lot of moo-lah.

Easy CGI details

Cheapest Package: $7.96/month
Best Deal: The cheapest package, allows for unlimited domains and 350 GB disk space
Special Features: Incredibly easy WordPress installation
VPS / Dedicated Servers: Yes / No
GO TO THEIR SITE
If you are a novice blogger, worried about setting up your WordPress blog or simply want to make your WordPress start-up process as easy as possible, then Easy CGI is your ideal hosting choice. New hosting accounts with Easy CGI come with WordPress installed — with one click you can "turn on" your WordPress. Easy CGI turns accounts around quickly, so there's probably no host where you can go from signing up to writing your first blog post as quickly. Plus, their unlimited plan is a pretty good deal at $7.96 a month.

ThinkHost details

Cheapest (and Only) Package: $7.95/month, for unlimited disk space, databases and domains
Special Features: Carbon neutral operations, automatic WordPress installer, free website tools
VPS / Dedicated Servers: No / No
GO TO THEIR SITE
ThinkHost offers a high quality product. In our experience, and by all accounts, they are very nearly as reliable a host as HostGator is. Their customer service is comparatively good too. We also love the free website software you get when you sign up with ThinkHost and the spam filter on the email that comes complimentary with a ThinkHost package is one of the industry's best. ThinkHost also offers the option of a easy WordPress install.
On top of that, ThinkHost has a 100% (!) uptime guarantee. The problem — and this is the reason why ThinkHost slipped to #4 in our rankings — is that the guarantee calls for you to be refunded one day's worth of hosting fees for every one hour your site is down. That sounds good until you do the math. If your site is down for 2 hours you'd be refunded a grand total of $0.51. With any of the hosts we ranked #1 through #3 you'd get a whole month's cost refunded.
That said, ThinkHost offers something else none of the other hosts on this list does: strong environmental awareness. Other hosts mentioned in this review (like FatCow Hosting) use renewable energy. But only ThinkHost has a completely carbon neutral operation—their servers run 100% on solar and wind energy. ThinkHost has a strong mission of social change and offers free hosting to community groups that focus on peace and environmental issues. Plus, if you open a new account with them they'll will plant a tree on your behalf!
For more on ThinkHost, see our review of the best environmentally-friendly hosting companies.

myhosting.com details

Cheapest Package: $4.95/month
Best Deal: Their cheapest package for personal blogs
Special Features: VPS upgradeable
VPS / Dedicated Servers: Yes / No
GO TO THEIR SITE
This hosting company uses their URL in all lowercase letters as their formal name. That makes for awkward sentences when writing a review. But, by whatever name, myhosting.com is our choice for the best, cheapest shared host that also offers VPS. As we discussed under What is a shared host?, a VPS option will let you upgrade to a faster and more robust (but more expensive) type of hosting if you website becomes sufficiently popular in the future.
For a hobbyist blogger who is unlikely to need more than shared hosting, you'll save money and probably get slightly better service going with FatCow (above). If you plan to blog as part of a business venture, myhosting.com's VPS expandability is probably worth the extra $1~2 per month. myhosting.com's "personal website" package limits you to one email address but does come with a free domain and a WordPress installer.
LEARN MORE ABOUT MYHOSTING.COM




Best WordPress Blog Hosting Companies in Summary
So, to sum up:
• If your chief concern is getting the cheapest possible deal for a high quality shared host, choose FatCow Hosting .
• If you want the cheapest possible deal for a high quality shared host that you can later upgrade to VPS, go with myhosting.com.
• Installing WordPress isn't difficult. But if you aren't the technical sort and want the easiest possible start-up process for a new WordPress blog, you'll want Easy CGI
• If you are environmentally conscious and place importance to finding a host that is too (without sacrificing quality) then select ThinkHost.
• If all the hosts in this review sound the same to you or if you are feeling uncertain what host to get, you can't go wrong with HostGator
updated: 20 Aug 2012

JOIN US ON TWITTER / FACEBOOK / PINTREST
† Getting a free blog through wordpress.com is okay if you are absolutely certain that your blog will be temporary. But the only way to truly own your blog, and to be able to make whatever modifications to it you'd like, is to host it yourself. Plus, how much cooler is it having your own domain name?
Related Spot Cool Stuff posts:
The Best 3 Green Website Hosts
5 Great WordPress Plugins For Travel Blogs
5 Cool Photoblogs

Learn About WordPress: