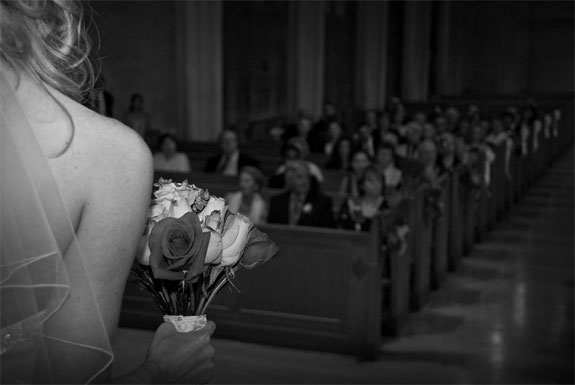 Many a bride-to-be—and none too few grooms—have nightmares about the logistics of their upcoming wedding. The invitations, the music, the catering, the flowers, the rehearsal dinner and on and on and on . . . keeping it all organized is tedious and stressful.
To help engaged couples rest easy there's Wedding Tracker, an online service through which you can not only organize your wedding but to build your own personalized wedding website as well. The service costs $60 (or $25 if you only want the website builder). To see if Wedding Tracker was worth it we tried it out:

As a wedding website building service . . .
. . . Wedding Tracker is extremely easy to use. You need absolutely no design or programming skill to create your own fully interactive wedding website in around 30~45 minutes.
Once you've completed your wedding website guests can visit it to RSVP for your big day, to see where you're registered, to get maps and driving directions, and to sign a guest book wishing you well (or ill, if those are the sorts of friends you have). You can use your website to keep guests informed with news and your preparation updates. What's really cool is that your wedding website can become a forum for sharing your photos and sharing news about your new family long after you say "I do." And it can all be password protected.
Click here to see an example of a static site built your Wedding Tracker, though we're more a fan of their flash designs such as this and this. Wedding Tracker has more than 30 designs to choose from.
Having just sung the praises of the Wedding Tracker website building technology, we should also note: If you are moderately adept at building websites you will almost certainly feel constricted by Wedding Tracker's design options. You may be happier
buying your own domain name
,
getting your own host
and building your own site. Of course, that will take a lot more time than using Wedding Tracker would.

As a wedding planning tool . . .
. . . Wedding Tracker is superlative!
Really, we wish there were some sort of Life Tracker equivalent. You could spend hours putting together charts and checklists and spreadsheets and still not come up with a system as good as Wedding Tracker's.
The Wedding Tracker planning tool is all web-based; you'll be able to access it through any internet connection with no need to install special software. Through this planning tool you can manage every single wedding-related event, from the bachelor(ette) parties to the bridal shower to the wedding ceremony to the sending out of thank you notes. You can also create seating charts, manage meal preferences, track your spending and take note of the gifts you've received. Data can be both imported from, and exported to, Excel. Check out some screen shots, below.
Your Wedding Tracker planning tool is able to sync with your Wedding Tracker website. If someone RSVPs through your personal wedding website their attendance status will automatically update in the organizing tool. Each of the sections of the planning tool interact with each other too—if a couple RSVPs that they are attending but you haven't assigned them a seat at your dinner then Wedding Tracker's planning software will send you a warning note.
Best of all, Wedding Tracker will allow you to create multiple user accounts, each with it's own permission level. So, you can allow your soon-to-be mother-in-law look at your wedding planning progress. But not allow her the ability to make any changes.

Related posts & pages:
Honeymoon Hotels
Get Married In Vegas, Goth-Style