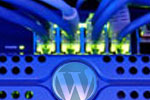 We love blogging. And we love the WordPress blogging platform. But we are very much not in love with most website hosts WordPress bloggers use.
Like it or not, a website host is a necessity if you want to run a WordPress blog with your own domain name (which we strongly suggest†). It's a hyper-competitive business, website hosting is. To cut costs most hosting companies skimp on service and reduce their reliability standards. How do hosting companies get away with that? you may wonder. Because most customers make their choice of host by looking at the price and nothing else.
Do not be one of those customers.
The difference between a low and high quality host is the difference between your WordPress blog being down a few minutes per month or being down for hours (or days!). It's the difference between your blog loading quickly or loading slowly. It's the difference difference being able to get help with a hosting issue and not.
Here's our overview of sharing hosting in general and our suggested hosts in particular. Short on time? Skip head to our conclusions:
---