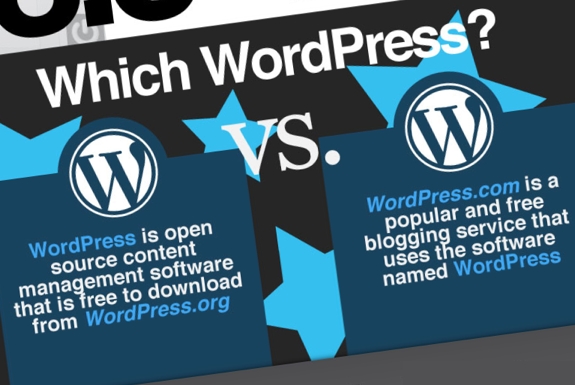 Start-up bloggers often ask us whether they should host their own WordPress blog or get a free one through wordpress.com. Below are two infographics that compare those options. But if don't have time to look them through, we'll tell you now:
Hosting your own blog is MUCH better than having WordPress do it for you.
There are really only two disadvantages to arranging for your own blog hosting. First, you'll need to find (and pay for) a good WordPress-friendly website host. Second, you'll have to do the updates yourself.




Neither of those disadvantages are burdensome.
• Updating requires nothing more than clicking on the link that says "update." And, anyway, updating is optional — your installation of WordPress (and all associated plugins) will continue to work even if they aren't updated.
• As for the cost of a host, that needn't be expensive. If you want to do something fancy with your WordPress installation, or want a lot of support around your blog, it is worth getting a hosting plan through WP Engine, a WordPress specialist, for $29 per month. But most hosts are less than that. One of our favorite hosts for a WordPress blog, FatCow, is very convenient for WordPress users and currently has a deal on hosting for only US$3.15 a month!
In comparison, the upside of hosting your own blog is significant.
• Most of all, if you host your own blog you own all the content you create. With a free blog through wordpress.com you are, in essence, giving your content to WordPress.
• You can do anything you want with a self-hosted blog — run any plugin, use any theme, display any content, use any analytics service. With wordpress.com you are bound by WordPress's terms of service.
• If can try to make money from your self-hosted blog if you so choose. You can not run ads or otherwise monetize a free wordpress.com blog. And if you ever want to sell your blog, it will be worth much more if it is self-hosted.
• A self-hosted blog will, in time, have better SEO (and thus get more traffic).
• Self-hosted blogs tend to be taken more seriously than one with a _____.wordpress.com domain. Plus you can set up free email addresses using your blog's domain.
To be sure, there are a few specific circumstances in which getting a free wordpress.com host might make sense. Eg. if you want to set up a temporary blog (to, for example, organize a family reunion). But, generally, self-hosting is far superior.
Check out the infographics below for more about starting a self-hosted blog versus wordpress.com. Or see our review of the best WordPress hosts for more detailed tips and advice on selecting a host.
published: 2 Jan 2013

GO TO WP ENGINE / FAT COW / WordPress |
Click on each to see in a full size in new window: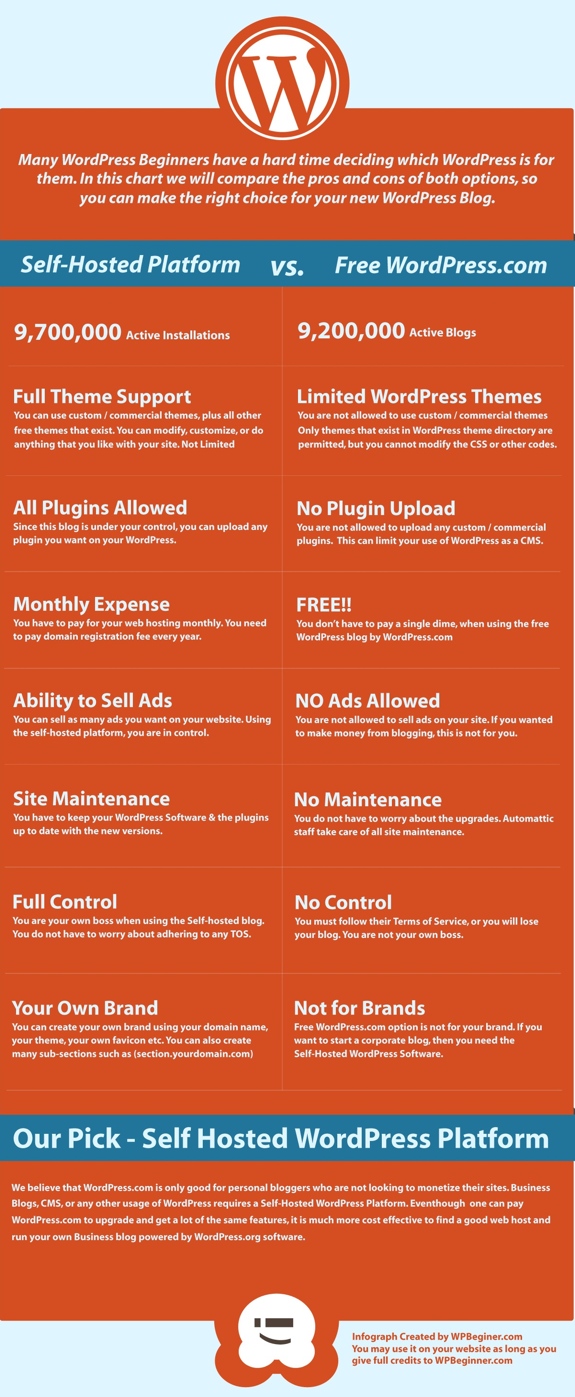 GO TO WP ENGINE / FAT COW | JOIN US ON TWITTER / FACEBOOK / PINTREST / GOOGLE+
Elsewhere on the web: